When it comes to consuming alcoholic beverages, some choices deserve more accolades than others. Without a doubt, an ice-cold bottle of quality beer is high on the list.
Favored by people all over the world, beer is adored for its crisp and refreshing flavor and is commonly drunk in bars or at sporting events. But what is the best beer that you can sample? 
Like most alcoholic beverages, beer is produced in numerous countries around the planet, with certain regions yielding better products than others.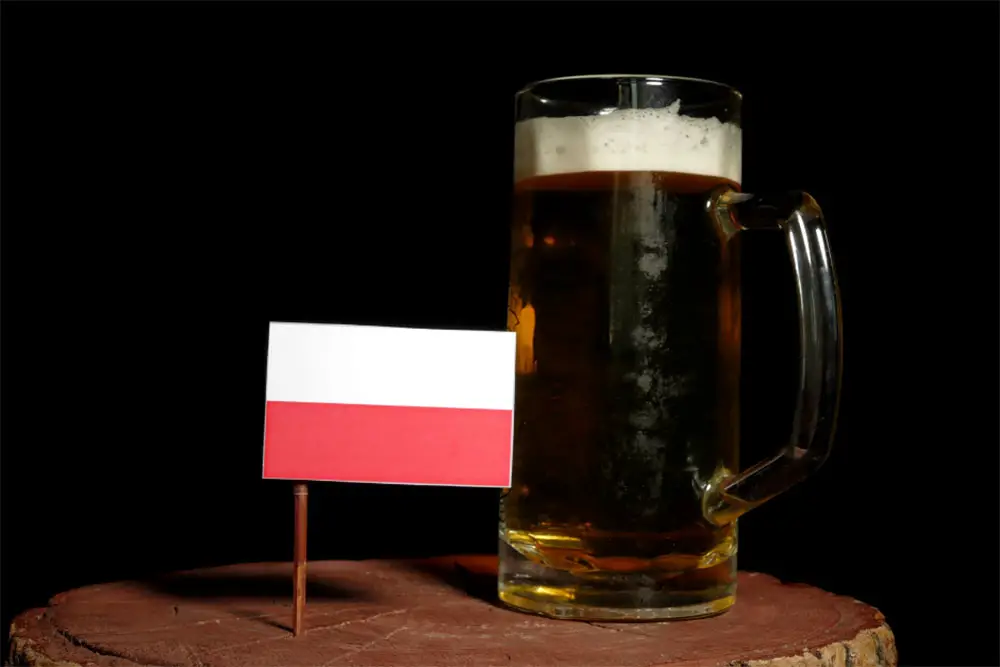 BEER DROP: Boxes of beer from Award-winning microbreweries → Join The Club
These days, most beer enthusiasts prefer to consume beer that has been produced in Western Europe, as this area of the continent is considered to be the birthplace of modern beer – with beer from countries such as Germany, Belgium and Austria being held in high regard. 
However, this does not mean that these are the only European countries that create their own beer, as the country of Poland is also known to have a long and rich history when it comes to the classic drink. In fact, Poland has been producing beer for over 1000 years and their various concoctions are enjoyed throughout the globe. 
Because Polish breweries are often underrated, Polish beer is not widely distributed and this means it can be very difficult to find.
So to help aid you in your search, we have compiled a list of the 10 best Polish beers that you can try. Not only are these beers attainable, but they are also delicious and demonstrate just how amazing Polish beer can be. 
So why not check out our list and see which of these amazing beers tickles your taste buds! 
How Long Has Beer Been Produced In Poland?
Beer has been produced in Poland since the Middle Ages, with historical evidence suggesting that pubs and inns were selling the drink as far back as the 11th century. However, industrial brewing would not fully begin until the 19th century, when the distribution of British beers such as Porter first began.
During this period, Poland began to favor and produce pale lagers, which are now commonly associated with the Germanic countries. 
Following the Second World War and the rise of communism, all European breweries were nationalized until the 1990s, when the rise of capitalism in the market competition allowed international beer companies to properly return.
During the 2010s, three particular companies dominated the Polish beer industry. However, this changed with the increasing popularity of craft beers and by 2013 there were over 97 breweries in the whole of Poland. 
These days, there are over 200 craft breweries in the country, with over 500 brands of polish beer being produced every single year.
Because of this high number, Poland brews more beer than any other European country outside of Germany and the United Kingdom, with the country's environment providing the perfect weather conditions to produce homegrown Polish hops. 
Top 10 Polish Beers
So in no particular order, let's take a look at our top 10 Polish beers! 
1. Ciechan Pszeniczne (4.8% ABV)
If you are looking for a light and refreshing beer that is low in alcohol, then this may be the ideal beverage for you. This unfiltered German Hefeweizen-style beer comes to us from one of Poland's most popular breweries and is made using a traditional European recipe and method. 
Image Source
Made from top quality fermenting yeast, this crisp and frothy beer contains a high amount of CO2 and is distinguished by its pale yellow hue, which changes to light gold once it has been properly poured. Featuring notes of banana and clove, this aromatic blend offers a generous foam head and is the perfect introduction to Polish lager. 
2. Lech Premium (5.05% ABV)
If you are new to trying Polish beers, then we always recommend starting with a light blend and this delicious beer is as light and refreshing as beer comes. Produced by Lech Broway Wielkopolski, one of the more industrial breweries in Poland, this premium beer is known to be highly carbonated and is best served icy cold. 
However, this does not mean that the beer should only be enjoyed in warm weather, as its combination of rich aromas and layered flavors make it the kind of beer you don't want to miss out on. Known for its bitter and floral notes of grass and hay, this smooth and tasty lager is ideal for both beginners and enthusiasts alike. 
3. Zywiec Lager (5.6% ABV)
For the next entry on our list, we have chosen a product that is often defined as a quintessential Polish beer. Produced by one of the oldest beer brands in the whole of Poland, this European pale lager is perfect for beer newcomers and is distinguished by its overall sweet taste and light aroma. 
Featuring a pale and golden hue with a thick and foamy head, this beer is said to contain sweet and fruity notes, which are then elevated by a subtle hint of malt. Arguably one of the best Polish beers that you can purchase, this lager is the ideal introduction to Polish brews and has been produced by a brewery that has existed for over 150 years. 
4. Tyskie Gronie Lager (5.6% ABV)
Since it was first introduced on the beer market, this bohemian pilsner or macro lager has only continued to grow in popularity and has since become a beloved beer not only in Poland but also the entire world.
The winner of several prestigious awards, this lager is widely considered one of the best beers on the market and is a delicious example of just how spectacular Polish beers can be. 
Distinguished by its light and golden color, the beer is also known for its distinctive malt aroma and is said to contain subtle notes of bitterness. Unlike other beers we have listed, this particular brand is probably the easiest to find, as it is widely sold throughout Europe and can be found in commercial liquor stores across America. 
5. Zubr Polish Lager (6% ABV)
If you are interested in sampling one of Poland's most classic beers, then this delicious and authentic lager is the drink you've been searching for. Produced by one of Poland's oldest breweries, this particular recipe dates back to 1768 and is considered a behemoth in the Polish beer industry. 
Image Source
Made using homegrown Polish hops, this light and refreshing lager is known for its deep amber hue and floral aroma, with the overall blend yielding a traditional pilsner taste, which contains subtle undertones of caramel and bitterness.
Perfect for social gatherings, this crisp beer can be shared with family and friends and pairs particularly well with salty snacks such as pretzels and potato chips. 
6. Perła Chmielowa (6.0% ABV)
The next entry on our list is yet another historical name in the world of Polish beer, with this refreshing pilsner first being brewed in the year 1846. Known for its characteristic bitterness, this light and crispy beer comes with a rich and malty aroma and is known for its attractive golden hue. 
Since rising in popularity, this particular beer has been the recipient of numerous awards and nominations, with the Perla even winning the bronze medal at the International Beer Challenge. So if you are hoping to begin your Polish adventure by sampling a critically acclaimed beer, then this fresh and layered blend is a perfect choice. 
7. Okocim OK Beer (6.2% ABV)
If you are interested in trying one of the cheaper beer brands that Poland has to offer, then we highly recommend that you sample Okocim. Produced by the Okocim Brewery, which was originally founded in 1845, this pilsner-style beer is one of a limited number that truly separates itself from other European beer brands. 
Considered one of the more accessible Polish beers, this pilsner is known for its smooth hints and malt and sweetness and is said to leave a lasting impression on the tongue. As far as pilsners go, this particular brand is arguably one of the best in Poland and is definitely worthy of its place on our list. 
8. Amber Kozlak (6.5% ABV)
Featuring a higher alcohol content than the previous entries on our list, this Polish lager is ideal for drinking at social events and promises to deliver a unique and memorable beer experience. The attractive beer comes in a German Bock-style and is often distinguished by its rich and cloudy appearance. 
When properly poured, the beer takes on a vibrant ruby hue and is said to contain sweet and subtle undertones of honey and caramel.
However, this does not mean that the beer's sweet flavor is a sign of weakness, as the lager is said to be much stronger than the taste would indicate. So make sure that you drink responsibly when it comes to this particular Polish brand. 
9. Zywiec Porter (9.5% ABV)
If you are a hardcore enthusiast of dark ales such as stouts, then your next entry may be the perfect beer to match your palate. Commonly compared to British brands such as Guinness, this Polish porter is widely considered to represent the taste of Krakow and is distinguished by its overall dark and syrupy appearance. 
Like most stout blends, this particular beer brand truly embraces the dark and decadent, with the sultry beverage said to contain rich and indulgent undertones of coffee, malt, chocolate and raisin.
Considered one of the best Polish beer brands on the market, this stout was originally brewed in 1881 and has remained a popular favorite among locals and tourists for centuries. 
10. Kormoran Imperium Prunum (11% ABV)
When it comes to ranking Polish beer brands by their authenticity and flavor, Kormoran Imperium Prunum will always fall near the top of the list. Considered a very popular brand among locals and craft beer enthusiasts alike, this black porter is known for its high alcoholic content and is said to embody an array of dark and delicious flavors. 
Image Source
Made from a smoked dried plum called the Suska Sechlonska, which are known to grow in Southern Poland, the black porter is said to feature rich aromas of coffee, chocolate and cocoa, with the overall beverage promising a sweet and smoky taste.
The winner of numerous awards and honors, the beer was ranked at number 42 in The Daily Meal's 50 Best Beers 2018 and is widely regarded as one of the best porters in Poland, as well as the number one Baltic porter in the whole world. 
Where Can You Find And Purchase Polish Beers?
Now that you have taken a gander at our selection of the 10 best Polish beers, you probably want to try some of these brands for yourself. And if this is the case, then you probably want to know where you can find and purchase these various Polish beers. 
Although the best solution would be to go to Poland and sample the beers in their native land, that is something easier said than done. Luckily, there are various methods you can use to find these beers in your home state, as they are now being more widely distributed throughout the United States and the world at large. 
Two of the most common places where you can buy beers such as these is at your local liquor store or micro-brewery, as these establishments often specialize in the selling of craft and obscure beers.
However, if your local liquor store or microbrewery does not yield the results you want, then you can always purchase these beers from online platforms such as Drizly, where you can find the brands you want and have them delivered to your door. 
If you are the kind of person who considers yourself a connoisseur of international craft beers, then you can also consider becoming a member of the International Beer Club, which is an online subscription service that specializes in the exchange of lesser-known beer brands.
Once you have joined the International Beer Club, you will get to sample a variety of unique European beers, which may only be moderately distributed throughout the United States. 
So what Polish beer is the best? Well, that's something you have to decide for yourself!