While drinking your favorite IPA or beer, the thought might have crossed your mind that you might want to make try making your own moonshine at home. This can be a very challenging process that requires a lot of concentration and will ultimately be very rewarding to you.
Homebrewing moonshine requires not only a lot of patience, but you'll need exactly the right equipment for your needs.
You'll need to have a distiller that is either made from copper or stainless steel. Having the right metal makes all the difference during the brewing process.
If you are just starting with home moonshine brewing, you'll want to make sure that the process is as easy for you as possible. Having few drums that you can use for your abilities will really make a lot of sense when it comes to keeping the process very simple.
If you get a home brewing kit that comes with too many dials and pans, then you can be left feeling very overwhelmed.
This will also increase your chances of making a mistake, which could ruin your whole batch. You'll also want a distiller that is easy to maintain and will not break after multiple uses.
So where exactly can you find one of these moonshine stills? How to find a still that will help you when you are starting in the noble art of homebrewing shine?
What are the best materials for a distiller to be made from? How much will you be expected to spend on one of these home brewing kits?
Well, if you want to have as much knowledge as possible about home brewing before embarking on this complicated hobby, then we would recommend that you keep reading this article.
We break down the process of moonshine making, as well as giving you the top 5 distillers currently available on the market.
OUR TOP PICK
Seeutek Moonshine Still 3 Gal 12L Water Alcohol Distiller (Amazon)
EDITORS CHOICE
VEVOR Moonshine Still Stainless Steel Water Alcohol Distiller (Amazon)
BEST VALUE
ECO-WORTHY Moonshine Still 5 Gallon Alcohol Distiller (Amazon)
OUR TOP PICK
This first moonshine and beer distiller is very popular amongst people that are just starting to make moonshine.
This comes in a 3-gallon design that will allow you to brew large batches of powerful moonshine from your very own home – introducing the Seeutek Moonshine Still 3 Gal 12L Water Alcohol Distiller.
This unit comes in a copper and stainless steel design, making it a very easy unit to brew beer as well as to clean out afterward.
If you really get into distilling and you want to enhance your operation with hydro and steam distillation, then you can easily augment this machine with more items after a while.
This machine will allow you to perform leak checks and is one of the best machines to clean out once you have finished with it.
It is very important to maintain your distiller, as impurities in the metal will eventually lead to your machine malfunctioning and your beer turning out less than tasty.
Pros
The price – this is one of the more reasonably-priced distillers, you can whip up 3 gallons of beer for very little money.
This can be adapted for many different heating sources, so if you have a portable stove heater, then you can easily use it with this machine.
You can whip up quite a lot of moonshine with this one, with 3-gallon drums that will enable you to place plenty of your hops in for a very hearty brew.
Easy to clean – this is a very easy machine to get working, allowing you very easy access to the drums, which will certainly help to keep your brew nice and fresh.
Cons
This machine tends to overheat if you leave it unattended. This might put off intermediate-level brewers who like to leave their mixture to boil for a few hours.
EDITORS CHOICE
This next brewing kit is one of the best for accuracy and measuring the exact amount of ingredients that you've added to your pans.
When it comes to brewing beer, accuracy is probably the most important thing that you'll need, so you should make sure that you have measuring dials and a Fahrenheit reader – introducing Vevor Moonshine Still 9.6 Gal/38 Liter Stainless Steel Water Alcohol Distiller.
This is made from stainless steel, which makes it perfect for sustaining and conducting the high heats that you sometimes have to subject your moonshine to.
This construction also makes it very easy to clean, which is very important if you are thinking of brewing consecutive batches.
The only drawback of this distilling kit is the fact that it doesn't really come with any instructions, so you might be struggling to get it operational.
This comes with red copper pipes that will improve the functionality of your kit, allowing for fewer leftovers that will result in impurities in your next batch.
Pros
This distiller has a very simple design and is very easy to use, so not only does this make it good for beginners, but it makes it very easy to maintain.
This is made from stainless steel, which is both very easy to clean and resilient. You can be certain that this one will last you for years if maintained properly.
This drum can withstand quite a high degree of heat, which is very important if you are batch cooking regularly. Often steel pans will succumb to heat damage, so they must retain their conducting abilities over the course of months and even years.
This is a very portable unit and it has a lighter weight, so if you want to transfer your kit from one location to another, you can do so easily. You can also use it for outdoor brewing.
Cons
This kit does not come with a set of instructions, which might be daunting for a lot of newbies that have never brewed beer before.
BEST VALUE
This next model, as addressed in its namesake, is designed to save you on your energy bills by offering a very effective heat and fuel transfer between the outside and the inside of your pan.
It comes with plenty of copper components that are perfect for boosting the heat transfer to the contents of your moonshine – introducing Eco-Worthy Moonshine Still 5 Gallon Alcohol Distiller.
This whole kit comes with plenty of items, including a boiler barrel, a thumper keg, a condenser keg, a thermometer, a manual and a few other accessories.
You can produce some very quality and very tasty beer that you and your friends can drink all year round.
The thermometer will give you more control of your heating, which is very important in the brewing process.
You can heat your brew in a manner of ways, using both gas and electricity, you can even heat this one with ceramic fermentation tanks. You can have very high-quality distillations with this kit.
Pros
This kit comes with silicone seals that you can be sure will not split or cause any leaks, even when you use them over years. Leaking is one surefire way of ruining your homebrew.
You can use many different heating sources with this kit, whether you're opting for electricity or gas, you can be sure of getting a thorough cook no matter how intense the heat is.
This is a great product for beginners, coming with a manual that will show you what each one of the pans does as well as how to regulate the temperature accurately using a thermometer.
This is a perfect stainless steel pot and pan set to use with your brewing kit. All you need are the right amount of ingredients and a recipe to follow.
Cons
You might have to tighten some of the screws and other fittings that come with this brewing kit, otherwise, you might notice a drop in functionality.
RUNNER UP
This is definitely an option for those beginners who want to get stuck into some heavy-duty brewing.
This kit can brew upwards of 38 liters of alcohol, which is very important if you are making a large batch of moonshine for you and your friends.
This will allow you to heat and cool your ingredients a lot quicker – introducing Vevor Moonshine Still 9.6 Gal/38 Liter Stainless Steel Water Alcohol Distiller.
This brewing kit will allow you to brew a lot of beer, which is very important if you are making a larger batch to preserve at a later date.
This quick-cooling technology will be perfect for making beer a lot quicker, although if you are a beginner, we suggest that you start brewing slowly at first.
This will allow you to distill many different types of alcohol, including fruit wine and brandy. It will require additional copper piping that will improve the overall brewing capabilities of your kit.
It comes with a thermometer that will allow you to brew a selection of your finest drink to within a degree of precision.
Pros
This has the highest brewing capacity of any kit that we've listed so far, so if you want to be adventurous on your first brewing try, then we would recommend using this kit.
This has quick cooling capabilities, which will allow you to make your beer much quicker than normal. This might appeal more to intermediate brewers who have a few brewing sessions and know what they're doing.
The stainless steel materials are very durable and super easy to clean. If you are going to brew multiple batches, then we would recommend that you get one of these kits.
The price – this comes with a super low price, so if you are a student who wants to save money on both beer and brewing, then we would certainly nudge you in the direction of this kit.
Cons
This does not have a thumper keg, which is a crucial part of the brewing process, converting the low win into high alcohol vapor for the condenser.
RUNNER UP
You can contain upwards of 50 liters with our final distiller, making it a must-have not only for beginner brewers, but those that have at least a year of experience under their belt.
You can use this for both domestic and household brewing scenarios – introducing the Vevor 50L 13.2 Gal Water Alcohol Distiller.
This comes with two different thermometers that will allow you greater control over the final heat of your brewing mixture.
This is very important if you are experimenting with different types of ingredients to create different beers at the end of your process.
With two thermometers, this gives you ultimate control over your final product.
This has an exhaust pipe that you can use to expel some of the detritus that comes from the alcohol brewing process.
This might be slightly tricky to set up, but once you have it working, you'll be wondering how you got so far in life without this product.
Pros
This has greater capacity than all of the other brewing kits, meaning that you can brew beer and moonshine for yourself and your whole family. We would certainly recommend this one for a festival.
This has a very professional setup, allowing you a fast and efficient brewing style that is very important for getting through multiple batches at any one time.
This also comes with an advanced cooling system that will really emphasize that fast-brewing technique. This is one for intermediate-level brewers who have enough experience to be able to negotiate quicker brewing times and more intensive heating.
The price – for what it is offering in terms of features, this is a very decently-priced unit, so if you have given up the booze to save on money, then having one of these units will cut costs even further.
Cons
There is no manual for this setup, so you might be left scratching your head for a while. We would recommend that you look up some brewing videos to give you an idea of where to start.
Buyer's Guide
There are many things you should be looking for from your first moonshine kit, especially if you are a beginner. Brewing beer is not always the easiest thing to do, so you should make sure that you have exactly what you need for the exact brewing techniques: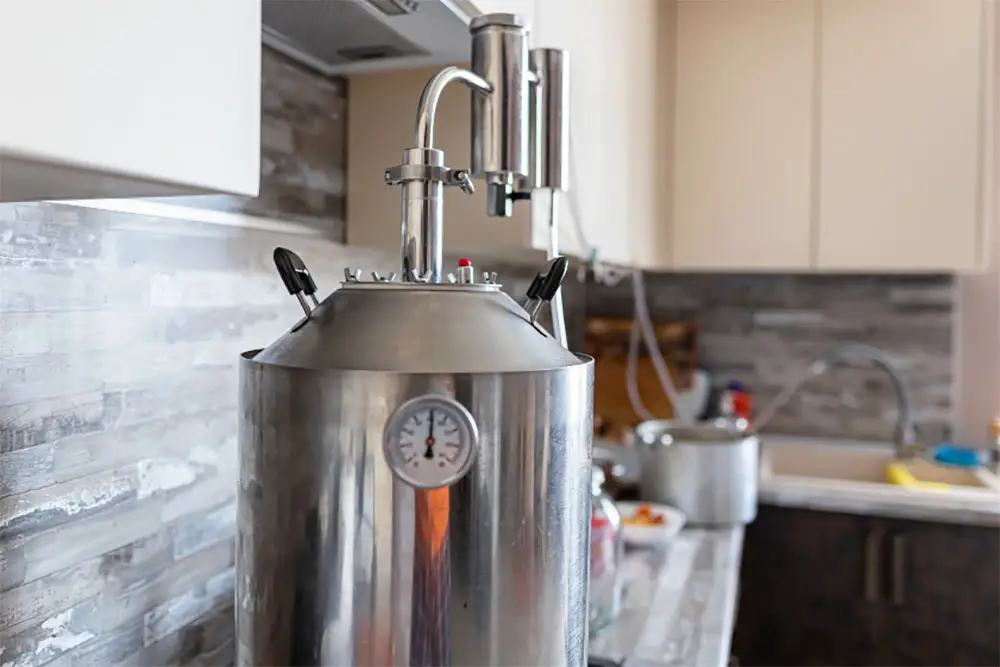 Shaker & Spoon - We bring the bar to you! It's the perfect home happy hour🍸→ Get Your Drink Box
How Easy Is It To Use?
From getting the correct heating levels to mixing the ingredients in the right manner, you'll want to be sure that you can handle all the variables for your cooking set.
Having the right materials is very important, as it will allow you to handle the intense heat of a cooking session.
What Is It Made From?
You'll want to be sure that your brewing kit is made from either copper or stainless steel, as these are the best ingredients for conducting heat and brewing liquid over a long period.
These materials are resistant to rust and will not succumb to damage over multiple brewing sessions.
How Easy Is It To Clean?
Cleaning is one of the most important aspects of making sure that your brewing pot will stand the test of time.
You'll need to make sure that you wash off all the residue in between cooking batches, as one batch will influence the flavor of the next one negatively.
How Much Does It Cost?
These kits ultimately aren't cheap, but if you are committed to making your own booze, then you could probably save some money on the cost of beer bought from the shop.
One of the main things you might be drawn to home-brewing for is the alcohol levels, which you will have complete control over.
You'll need to weigh up the benefits of having a home brewing kit. One of the main reasons you'll want to start cooking up your own alcohol is that it will save you money on having to buy it from the store.
However, remember that making this kind of moonshine will involve a lot of time, effort and patience. You'll also have to spend money on the ingredients.
Frequently Asked Questions
What Is The Best Material For A Moonshine Kit?
Ideally, you'll want a sturdy metal that will not be susceptible to stains between cooking batches. Stainless steel is not only very durable, but you can also clean it remarkably easily after use.
This is why a lot of cookware and cleaning products are both made from this kind of metal.
Over time, your moonshine kit will absorb the ingredients of your moonshine.
This is why oak barrels are used in the brewing process of vodka, whiskey and rum, it is because the flavor of the barrels will affect the liquid inside over years.
How Much Will You Have To Pay For A Decent Moonshine Maker?
Some of the cheapest models of moonshine kits are around $100, although some can be found for higher than that.
You might have to factor in extra prices for copper piping, as some of these kits do not have such accessories factored in.