When it comes to homebrew, we all know we need to keep air out of beer when it's fermenting. The last thing you want is to undo all your hard work and efforts and have to drink a disgusting beer. 
So you turn to airlocks as a handy way to protect your brew and allow it to ferment in peace. But with so many on the market, it can be hard to find the best one, especially for first-time brewers.
The fear of ruining your homebrew mounts and you start to wonder if you are cut out for the homebrewing world or not.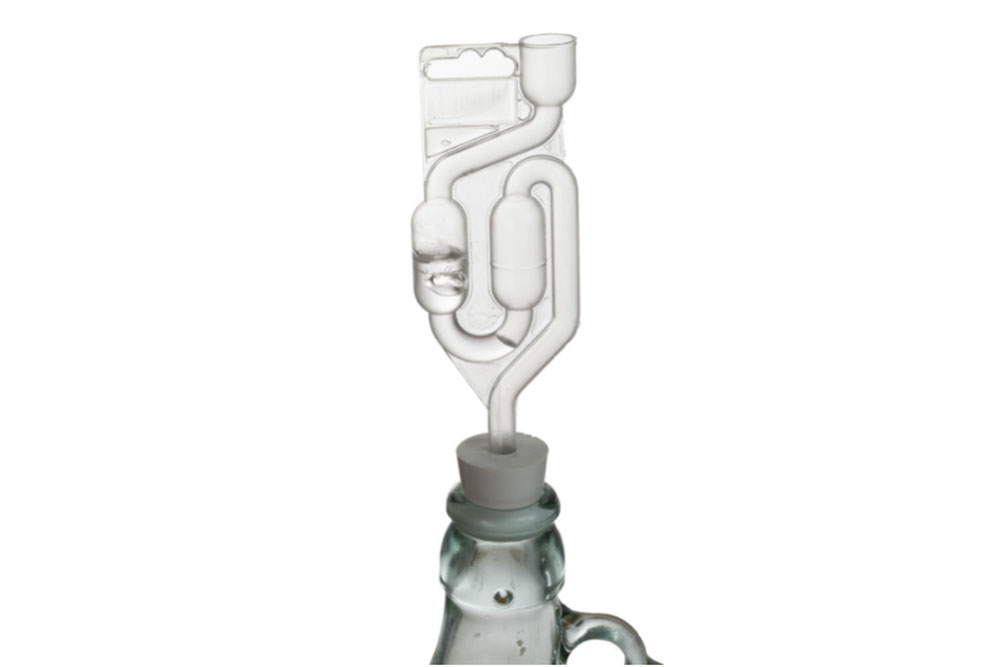 BEER DROP: Boxes of beer from Award-winning microbreweries → Join The Club
And that's where we come in to reassure you and provide you with the answers you need.
We have the best airlocks for homebrewing in this article and plenty of tips and tricks should you want to make your own airlock. So sit back, relax, and get ready to meet your new airlock!
What's The Best Airlock For Homebrewing – Quick Answer
In a hurry? That's okay! Let's dive straight into it.
Generally speaking, the best and most popular airlocks are S-shaped airlocks and 3-piece airlocks. The 3-piece airlock, in particular, is the most popular choice as it's easy to use and easy to clean. 
But, you can also use other household items including plastic bags, tin foil, and even balloons! 
We cover those DIY options a little later on, so stick around if you want to find out more. But for our favorite airlock? It has to be the Socal Homebrew Plastic 3-Piece Airlock (Amazon). It's functional, easy to use, and easy to clean. We have more information about it below, so be sure to keep reading!
What Does An Airlock Do In Homebrewing?
Before we start looking at the best airlocks, let's first look at the actual purpose of an airlock when used for homebrewing.
Put simply, an airlock keeps any potential contaminated air from infiltrating the airspace in your fermentation carboy or bucket. It plays a vital role in ensuring that the fermentation process runs smoothly and helps avoid any contamination.
So how does it work? Well, it uses encapsulated water that carbon dioxide releases from the fermentation process. It bubbles without creating any pressure that could otherwise blast open the fermentation canopy or bucket.
Thanks to gravity, the water stays down and the airspace is sealed, allowing your fermentation process to occur smoothly.
The Best Airlocks For Homebrewing 
Let's dive in! There are two main types of airlocks people use: bubble/s-shape airlocks and 3-piece airlocks.
These are more or less the same in terms of functionality, with a chamber for water and gravity to keep the water down and allow CO2 pressure to escape through the bubbling water. 
Let's take a look at these two types in more detail now.
S-shape/Bubble Airlocks 
As the name suggests, these airlocks are tubes with an s-curve and water chamber. This design makes them easy to use, one of the reasons why people enjoy them.
All you need to do is fill the chamber with water, place it inside a stopper and place the stopper on the opening of your fermenting bucket or carboy. 
The airlock will then get to work, preventing oxygen from entering and allowing your homebrew to ferment as it should. But there is a downside; these airlocks tend to come as a 1-piece and are either made of plastic or glass. The shape of them, too, can make these airlocks difficult to deal with. 
The curved shape makes it difficult to clean properly, running the risk of bacteria building up and spoiling this or future brews. If you are happy to take the risk, then we can recommend a fantastic bubble/s-shape airlock.
No products found.
The Twin Bubble Airlock and Carboy Bung come in a twin pack, making it super affordable for everyone!
These plastic airlocks are popular with customers as they can be fitted to large glass bottles, perfect for smaller fermenting jobs!
It's the ideal choice for those after an easy fermenting process, as the airlocks are super easy to use with just one piece. 
The durable plastic ensures longevity, and its size makes them perfect for 5 or 6-liter carboys. But there is a downside to these airlocks, and that is how difficult they are to clean.
Customers cited the tricky job cleaning them, with many opting to use these instead as single-use airlocks rather than a long-term solution to their airlock needs. 
If you are happy bulk-buying these and using them only once, or want to try an affordable option for a first-time brew, then these could be a fantastic choice.
But for those after a more durable and reusable airlock, the bubble airlock might not be the one for you. But fear not, keep reading to find the answer to all your prayers! 
3-Piece Airlocks
Up next, we have a 3-piece airlock that, you guessed it, comes in three parts. You get the chamber, a floating bubbler, and a cap with this airlock.
The primary chamber features a small tube that runs through the middle and is surrounded by a another chamber. It's this chamber which holds the water you need in your airlock. 
Next, you have the floating bubbler, which is placed on the tube top. It will naturally rest there, making it easy for you to assemble.
When the carbon dioxide builds up during the fermentation process, it climbs up the tube and will fill the floating blubber. Once the blubber is full, the carbon dioxide escapes under the bottom edge of the bubbler, passing through the water. 
This is the same process as the bubble-shaped airlock. Water allows the CO2 to escape but stops the oxygen outside from getting into your carboy or fermentation bucket.
As we mentioned earlier, our favorite is SocalHomeBrew's airlock that we will take a closer look at now! 
No products found.
At an incredibly low price, these airlocks are amazing value for money!
SocalHomeBrew offers a three-pack of these 3-piece airlocks, making it the perfect purchase for anyone with multiple brews on the go! By purchasing a multi-pack like this, too, you are sure to never run out or be caught short. 
The airlock comes in three easy to assemble pieces that come apart and allow for a deep clean. You won't need to worry about any rogue bacteria remaining and wreaking havoc on your future brews with these airlocks. 
SocalHomeBrew uses a durable plastic construction, too, ensuring that these airlocks stand the test of time.
You can expect a long-lasting and consistent performance from these airlocks that are sure to put your mind at ease. Although, it's worth noting that some customers found their airlocks cracked and damaged on arrival. 
This likely happened during transit, and all reviews raved about the speedy customer service they received when this happened; some peace of mind if yours too arrive damaged!
Be sure to contact SocalHomeBrew to have replacements or a refund arranged if this happens to you. Thankfully, there weren't many customers noting this, so you shouldn't be affected. 
The airlocks are incredibly easy to use and a personal favorite here with us. You are unlikely to be disappointed, and at such a low price, you'll wonder why you didn't purchase these airlocks sooner! 
Pros
Multi-pack – perfect for multiple brewers 
Affordable – suitable for all budgets 
Durable – plastic construction offers longevity 
Easy to use – makes it ideal for first-time brewers 
Easy to clean – ensures future brews are free from bacteria too 
Con
Some customers noted that their airlocks arrived damaged. 
Personal Airlock Recommendation 
Here, we love an easy option. Anything that requires the less work is sure to be a hit, and the same can be said for the airlocks that we love!
We and other homebrewers are likely to agree that 3-piece airlocks are the best ones for fermentation. 
Yes, you can use bubble/s-shape airlocks if you want. However, they are a pain to clean. That said, they are affordable and aren't a bad option if you are interested in bulk-buying single-use airlocks.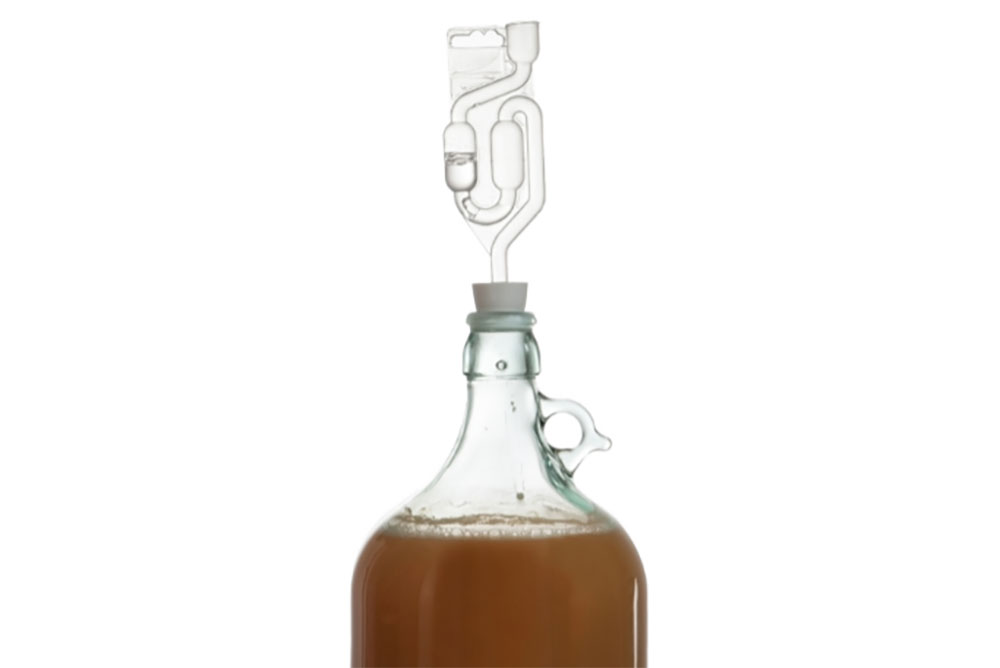 When it comes to homebrewing, there isn't just one airlock that is the best for everyone to use.
Instead, it's best to consider all your options and select the airlock that best suits you and your needs. After all, you are the one who will have to deal with the airlock when brewing! 
Consult other brewers and forums if you wish, but we think the general consensus will be that 3-piece airlocks are the best for home brewing.
Homebrew Airlock Alternatives 
There are times when even the most experienced homebrewer will find themselves without airlocks, just as the fermenting process is about to start.
Thankfully, there are a few alternatives to the airlocks that we mentioned above. Let's take a look at those now.
Aluminum Foil 
You can use a small piece of aluminum foil (food-grade) as an airlock! Simply place it as a cover on top of your carboy or fermentation bucket, and you are good to go! While it can be used in a pinch, foil is not without its risks. 
Wild yeast and bacteria in the air can move around and fall downwards, like how dust collects on surfaces.
Using foil and placing it over the fermenter and down the side slightly keeps bacteria from falling into your beer batch. It also allows CO2 to escape down the side of your canopy, leaving where the foil ends.
While this sounds good, the downside is that oxygen can get into your batch, as there isn't an actual barrier preventing it. This means that there is no real guarantee that oxygen will stay completely out of your bucket or carboy!
Balloons
We typically see this method used for carboy fermenters, where a balloon and rubber band function as an airlock.
Like the foil, you place the balloon over your carboy and secure it in place using rubber bands, making sure it's as airtight as possible. Then, poke some small holes in it, so the CO2 has space to escape. 
Just like with the foil, you run the risk of oxygen entering your batch and oxidizing it, not what you want!
What Else Can I Use As An Airlock?
When it comes to homemade airlocks, you can get pretty creative! Providing the material is capable of expanding and allowing CO2 to escape while minimum oxygen enters, then you are good to use anything! 
Here are some examples of what some people use: 
Condoms 
Clothing and rubber bands
Tubing systems in the water
Plastic bags
Kitchen wrap
The possibilities are endless! Just make sure what you use fits the criteria listed above.
Final Word
And just like that, we have come to the end of our journey today.
As you can see, there are some fantastic options on the market for those after an airlock for their homebrewing. No matter the design or budget, there is sure to be one that suits your needs! 
Remember to check out the alternative options if you don't think the airlock is right for you!