Picking the right wine to go with any meal is important, but special occasions mean you need to pair the main course with the perfect bottle of wine. It can be hard to know where to start, especially if you're having ham for dinner.
Here are the top 8 types of wine to pair with ham:
Pinot noir
Syrah
Riesling, dry or sweet
Rosé
Moscato
Zinfandel
Gewurztraminer
Sparkling wine
Wine pairings for ham depend on the flavor of the ham itself, and if you have a savory ham, you want a sweet wine, whereas if you have a sweet ham, you want a dry wine. Sparkling wines of every variety also work amazingly and fill out the table. Read on for our easy-to-understand guide to what wines to pair with what types of ham.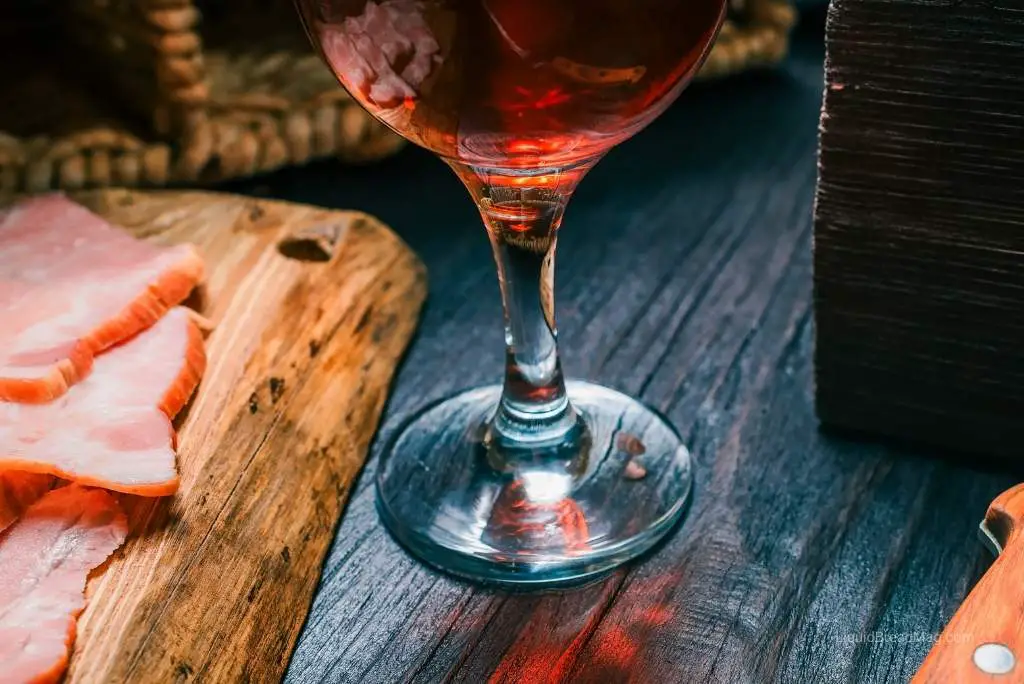 Gold Medal Wine Club - Boutique, award-winning wines delivered monthly! → Choose Your Wines
1. Pinot Noir and Ham
Pinot noir is a red wine with higher acidity that goes beautifully with ham. A Pinot noir is typically dry and light and won't weigh you or your guests down while also standing on their own and adding more flavor. 
These go great with smoked ham. They are high in character, but you don't want the wine to overpower the savory and smoky flavor. Instead, they provide texture and body to your main course.
You shouldn't pair this wine with sweet hams. Certain varieties will overpower the other flavors of the other dishes with nothing but sweetness. Instead, you can let the wine be the sweeter thing at the table with the ham.
2. Syrah With Ham
Syrah (aka Shiraz) is another excellent choice for ham. These red wines are versatile, and you can find syrahs that fit just about any meal. They are relatively common and easy to find, though they can be more expensive than other varieties.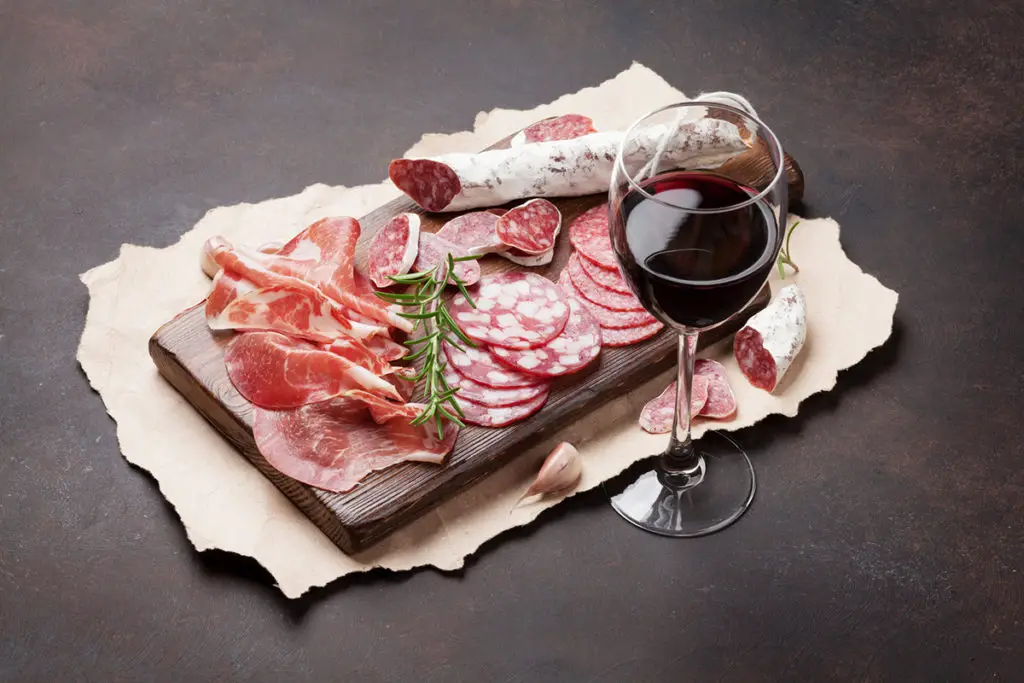 Interestingly, syrahs often have flavor notes of bacon, smoke, and herbs, and they tend to be more savory and light than other similar varieties. This means they won't weigh you down as you drink them and will bring out new flavors in the ham itself. 
Syrahs are also great to enjoy with other types of sides as well. These are perfect if you are having something like au gratin potatoes or other hearty dishes. A Syrah wine also typically goes well with steaks.
This variety will also pair nicely with darker cuts of ham, so if you are using a different kind of roast, this might be the wine for you.
3. Riesling (Dry or Sweet) Can Be Paired With Ham
Riesling wines, in general, are an excellent choice for ham dinners because they are versatile. They are typically light and can seem very similar to other varieties of white wine, like chardonnays. Both dry and sweet rieslings will go with whatever type of ham you've made.
You could even bring a variety of them and let your guests choose what they want to have with dinner. This German wine family will not disappoint, and your guests will be clamoring for more. 
An easy-to-find Riesling is the Chateau St. Michelle Riesling, which is a blend of dry and sweet Riesling, so it has a balanced flavor compared to other Rieslings out there. There are also different varieties from the same winery that are exclusively dry or sweet.
While Rieslings are almost exclusively white wines, several varieties of red Rieslings could be promising for a dinner occasion. These tend to be heavier and less fragrant than white Rieslings. 
A fancy ham dinner is a perfect chance to try out different kinds of Rieslings to see what you like. Once the experiment is done, you can use this variety with other pork dishes. Roasted pork belly with apple and pork chops with herbed potatoes are two great options to go with a nice Riesling.
4. Rosé With Ham Is a Great Choice
You cannot go wrong with Rosé wines, either dry or sweet. Both types are perfect for serving with a savory ham, and you can find rosés just about anywhere. It is also a great wine to start with when you are just starting on your journey to becoming a connoisseur.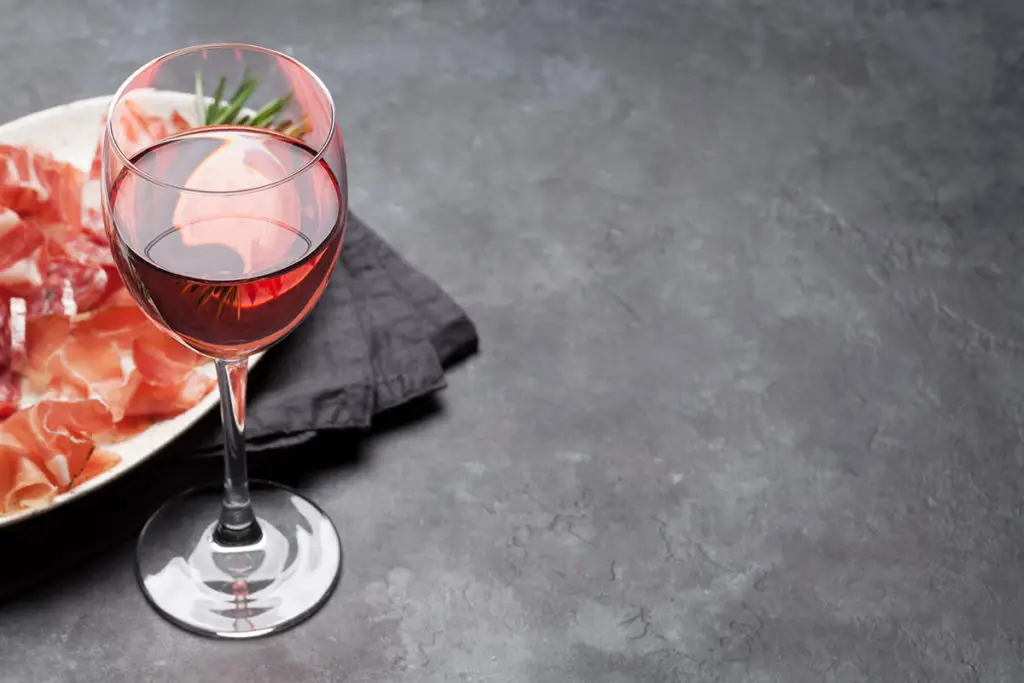 Out of all the varieties on this list, rosé is the most versatile. Dry and sweet rosés go with pretty much every type of ham dish you're going to make. They tend to be light with subtle flavors and won't break into your other dishes' or overpower them.
You could pair a Rose with lamb dishes as well.
5. Moscato Goes Great With Ham
A delicious Moscato is also a perfect choice if you are serving ham. An excellent general choice, Moscato wine brings sweetness and fruit flavors to the table. However, you need to select your Moscato carefully so the sweetness doesn't overpower everything else you're serving. 
Dessert wines are great for later, but you need to pick a wine for the main course. Moscatos are excellent to serve with ham and bring bold fruity wine flavors, as they tend to be sweet, but some might even say that they are too sweet. 
Moscato grapes are typically sweeter than your average wine because the muscat grape is sweeter. This makes them perfect for general use sweet wines, but some may say they are too much. 
This can be true, but Moscatos are better enjoyed as a sipping wine. You can't drink the whole glass throughout a quick meal because Moscatos should be savored and enjoyed throughout a long meal. 
You can enjoy this wine while chatting with relatives and anyone else who might be there.
6. Zinfandel: Many Varieties to Pair With Ham
A Zinfandel is amazing to pair with ham dinners. There are so many different varieties, and you can find something for any taste. You could even include multiple varieties for your guests to choose from.
However, like the other options on this list, you need to make sure this wine isn't overpoweringly sweet because too much sweetness will ruin the flavors. You probably might not want to choose port zinfandel or a "blush" zinfandel to go with your ham dinner. 
Save those varieties for the after-dinner dessert. Instead, pair red zins with a spicier ham.
7. Gewurztraminer Goes Well With Ham
This wine is a bit of a mouthful to say, but you won't regret drinking it with your holiday dinner. Similar to a resiling, Gewurztraminer is a unique variety that will get the conversation going.
Not only that, but Gewrz (as it is commonly called in the United States) is a perfect wine for ham. Like the other wines on this list, it can run from sweet to dry. You need to pick the best wine for your meal. 
Pick a Gewrz for a spiced or gingered ham rather than with any glaze.
8. Sparkling Wine is The Ultimate Pairing For Ham
Out of all the varieties on this list, sparkling wine is the perfect wine pairing for any ham. Not only are they festive, but you also get an excellent complementary flavor.
Champagnes are a great pick, especially for sweet hams. Their typically dryer flavor can lift the dish, cut through the fatty flavors, and leave your palette cleansed.
Other sparkling wines also work. Again, carefully read the flavor profiles before buying, as you don't want to spend a ton of money on something you don't like.
You could even use sparkling cider, like Martinelli's, if you want a non-alcoholic option for kids or people who don't drink. Martinelli's cider is one of the best ones and is widely available all across the United States.