Lasagna is an all-time favorite when it comes to home cooking, and to be honest, it can be challenging to beat. Choosing a wine to pair with your gorgeous lasagna can be a difficult task, especially if you aren't much of a sommelier. But looking at the dominating ingredients of your lasagna can give you fundamental clues as to which wines would pair best. 
Here are the top 10 wines to serve with lasagna:
Lambrusco di Sorbara 2019
Romagna Sangiovese Superior Crepe 2018
Sicilia Nero D'avola Lagnusa 2017
Chianti Classico Riserva DOCG
Negroamaro Kreos 2019
Mornington Peninsula Chardonnay 2019
Bodegas Conde Valdemar Finca Alto Cantabria 2014
Rioja Crianza 2018
Picpoul de Pinet
Argiolas Costamolino Vermentino di Sardegna
In this article, I'll explore each wine in-depth and what kind of lasagna you can pair them with. Taking into account the ingredients of the lasagna is paramount to understanding what type of wine you should be drinking alongside it. 
1. Lambrusco Di Sorbara 2019
Pressed from the famously-luxurious Sorbara grapes, this sparkling red wine just oozes wild strawberries and roasted peanuts. Lambrusco di Sorbara is the wine that should always be paired with cooked and uncooked meat dishes, as the freshness of the flavor combines well with the strong taste of meat.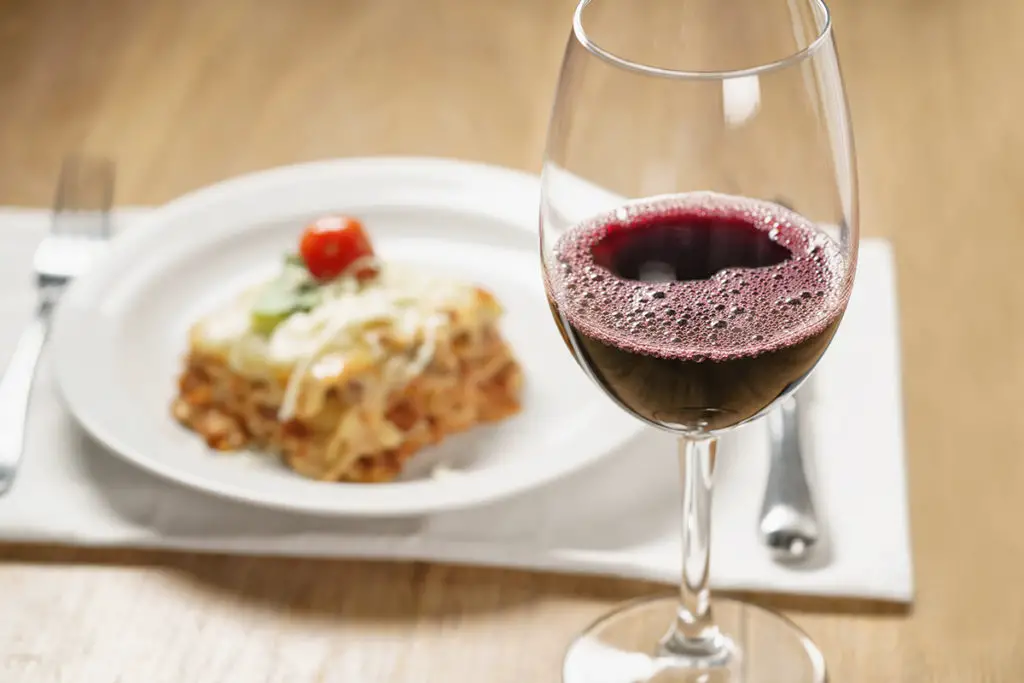 Gold Medal Wine Club - Boutique, award-winning wines delivered monthly! → Choose Your Wines
The Lambrusco is a brilliant choice when it comes to a hearty and meaty lasagna. It goes well with a creamy béchamel and serves to cleanse your palate with every sip. 
Thankfully, every sip will persist quite well and is pleasantly fruity, so it goes great with a rich tomato sauce. 
2. Romagna Sangiovese Superior Crepe 2018
Harvested by hand and fermented in steel in Italy, the Romagna Sangiovese is a real treat for a rich, meaty lasagna. This soft red wine is very balanced, so it doesn't overpower the lasagna taste. 
Fresh and fruity, hints of blueberries can be found in the Romagna, which cuts through the creaminess of the béchamel. 
You'll find this wine is very easy and pleasant to drink since it has a balanced amount of tannin. 
Since Romagna Sangiovese Superior Crepe 2018 is a regional wine, it's always best to pair it with a regional dish. The way regional wines are pressed and fermented should complement the traditional dishes of that same region. 
This is another great reason you should be drinking this with your meaty Italian lasagna. 
3. Sicilia Nero D'avola Lagnusa 2017
With its roots in the far corner of Sicily, the Sicilia Nero is a soft red wine with hints of spice, making it an excellent partner for a tomato-based lasagna. 
The Sicilia Nero isn't overpowering in the slightest, so the heavy taste of your lasagna will still come through elegantly with each bite. It's a genuinely complimentary wine, very velvety, and just the right amount of tannin. 
The best thing about this wine is the soft cinnamon notes that pair divinely with a creamy béchamel sauce.
4. Chianti Classico Riserva DOCG
Hailing from the depths of Tuscany, this deep-bodied red wine has flowery, fruity notes with just a hint of spice, perfect for a homemade tomato sauce. It has a dry taste that isn't too overbearing and pairs well with all kinds of meat dishes.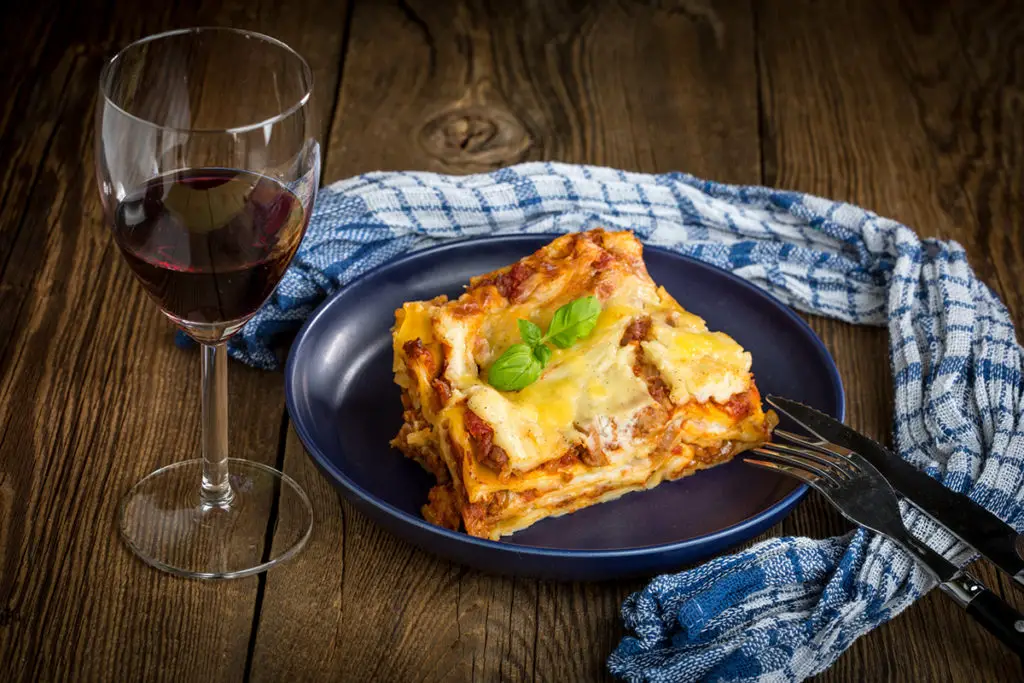 The Sangiovese grapes give it that tannic, smooth taste that makes it an excellent companion for layered dishes with carbohydrates, meat, and tomato. 
Since tannin isn't such a great companion of anything tomato-based, you might be surprised that this wine pairs so well with lasagna. However, the acidity levels of the Chianti Classico are high enough that it doesn't clash with the taste of tomatoes. 
5. Negroamaro Kreos 2019
This well-balanced rosé is a fantastic accompaniment for a fish lasagne with a tomato-based sauce. Since Negroamaro Kreos is quite an intense wine in terms of flavor, it cuts through the acidity of the tomato and brings freshness to every bite.
Notes of watermelon make this fruity rosé a good choice for seafood and carbohydrates, with just the right amount of spice. 
6. Mornington Peninsula Chardonnay 2019
If your lasagna is made with chicken or fish and has a creamy base, then the peachy tone of the Mornington Peninsula Chardonnay is the best way to go. 
This white wine, pressed from grapes grown in Australia, is a fruity alternative to many classic dry whites. With high acidic tones and a strong persistence, it's the perfect companion to creamy seafood dishes. 
7. Bodegas Conde Valdemar Finca Alto Cantabria 2014
White Rioja is always a safe bet when it comes to lasagna, but this is especially the case if you're cooking up a cream-based lasagna with lots of cheese. The Bodegas Conde Valdemar 2014 is an excellent white wine for vegetable-based dishes.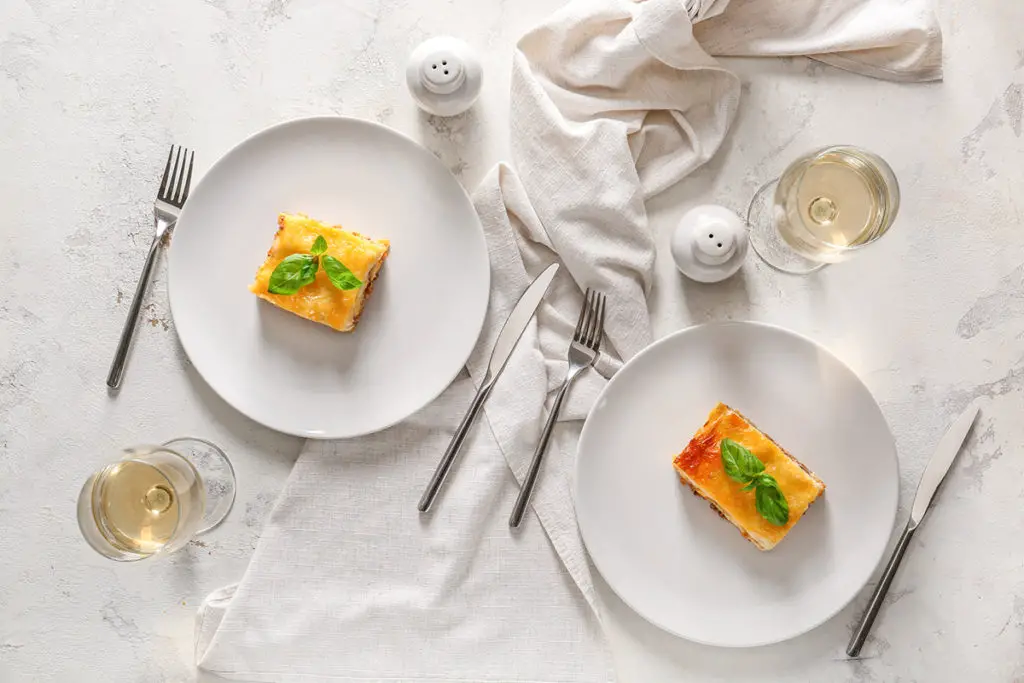 It's golden, fruity, and with a touch of nutty vanilla, it cuts through any cream sauce perfectly. 
Pair this white Rioja with a rich lasagna, and you'll be sure to impress your dinner guests. Just pour small glasses of this one, as it can be quite acidic.
8. Rioja Crianza 2018
With a high tannin rating and sweet notes, the Rioja Crianza 2018 is perfectly well-matched with a vegetarian lasagna that doesn't have a cream-based sauce, such as béchamel.
Instead, pair this with a roasted vegetable lasagna with a tomato or pesto-based sauce since its cherry and blackberry notes are perfect with caramelized vegetables, and its strong tones are very persistent. 
This red wine is a true winner when it comes to taste, and it's extraordinarily well-balanced, making it a perfect match with layered vegetable dishes. 
9. Picpoul De Pinet
This white wine from Piquepoul is delicate and incredibly elegant, and it pairs well with a less hearty vegetarian lasagna that's more light in taste. The Picpoul de Pinet also pairs excellently with cheese, so if you love a good layer of melted cheese on your lasagna, then you've definitely made the right choice. 
The best thing about the Picpoul de Pinet is its notes of hawthorn blossom, which aids in the structural balance of the wine and keeps each mouthful of lasagna fresh. 
10. Argiolas Costamolino Vermentino Di Sardegna
For a pesto-based lasagna with either chicken or vegetables, the Argiolas Costamolino is a fine match. Pesto needs a mineral-driven (preferably fruity) white wine to bring out its natural flavors, so this wine is a perfect choice. 
Grown in Sardinia for many centuries, this wine is perfectly well-balanced and very delicate so that it won't offset the strong taste of the pesto. Instead, it'll elevate the strength of the basil, making each bite as fresh as the last.
The Argiolas Costamolino also pairs well with seafood, so this is another excellent option if your lasagna is fishy.