Whether or not you're a long-time drinker or just starting, martinis are a fascinating drink to order. They scream cool, calm, and collected, and you want to look that way too when you order one.
Here's an expert's guide on how to order a martini like a pro.
This guide will teach you everything you need to know to order the perfect martini like you've been getting them for years. If you want to drink classic martinis like James Bond, then keep reading.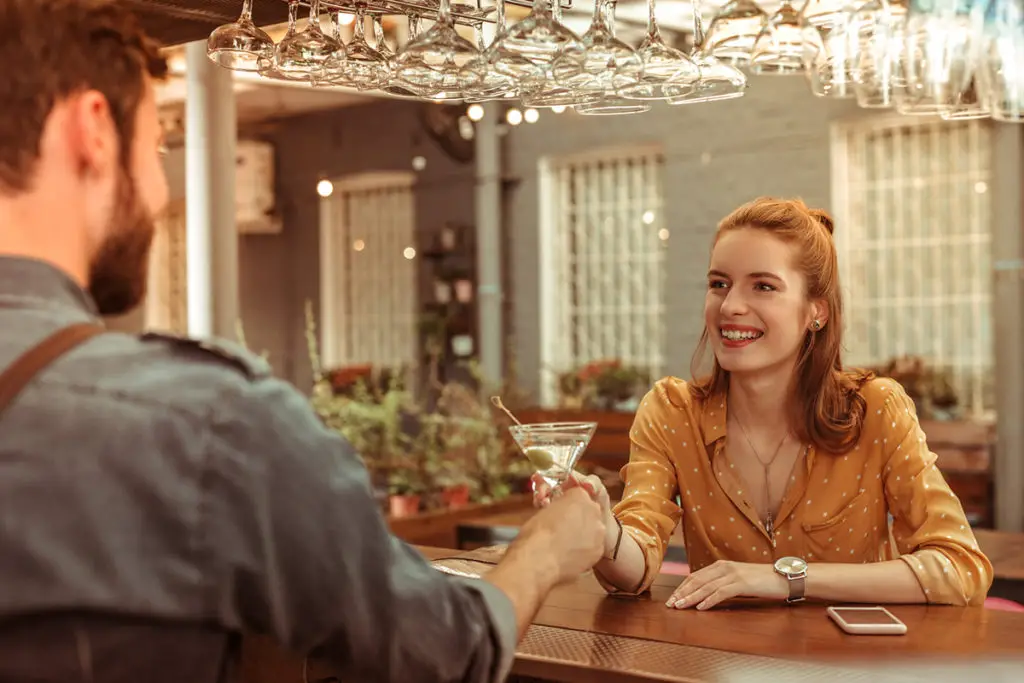 Shaker & Spoon - We bring the bar to you! It's the perfect home happy hour🍸→ Get Your Drink Box
1. Before You Order a Martini (Choose the Right Bar)
You shouldn't order a martini at just any old bar. You need an experienced bartender who has all the supplies necessary and the skill to prepare them properly.
Most dive bars won't have what you need, so you may need to travel to a higher-end bar, especially if you want a high-quality martini. However, if you're going to spend the time and money going to a high-end bar, you should know what you're getting into.
Elements Of a Good Martini Bar
Choosing your bar is the most critical step on your journey to enjoying the perfect martini, as not all bars or martinis are created equal. 
Check the reviews for the bar on Google or Yelp. Both of these sites can have all kinds of little comments that will tell you the real bar experience you're getting into. Depending on the popularity, there might even be formal blog posts reviewing the spot. 
You should also keep an eye on the prices and make sure you won't pay too much for a bad martini. Overpriced drinks aren't worth it at the end of the day.
If you're at a restaurant, you should ask the server or bartender about their martinis and if they're available. Ask about their thoughts regarding their martinis. They might try and sell them to you, or they may open up and give you their honest opinion regarding the restaurant's martini quality.
Bars may also have specialty martinis that change with the seasons. Those are always a great choice if you want to try something new and let your bartender's skills shine. They can also tell you how experienced the bartenders are.
2. Know Your Martini Terms Before Ordering
You'll want to talk to your bartender about what you want. Bartenders are supposed to give you precisely what you wish, and martinis, in particular, require a certain level of personalization. However, if you're a new martini drinker, it's hard to know what to say. 
Dry versus a wet martini? A shaken or stirred martini? There are many terms to learn, and you need to know them to be a real pro.
Shaken vs. Stirred
Everyone knows about James Bond and his "shaken not stirred" martini, but what does that mean? A shaken martini is blended in a cocktail shaker, which is better for drinks with other inclusions, like juice, herbs, or fruit. It can also make the vermouth tastes less oily than usual.
Stirred martinis are better when there's just liquor in the glass, as it leaves a cleaner flavor of pure alcohol. 
There isn't much of a difference between the two based on what you ordered. If you order a martini with just alcohol, shaking or stirring won't change the strength, but it might change the flavor and mouthfeel. 
Ordering a Dry Martini: What Makes a Martini Dry?
A gin martini is considered dry when it has little to no vermouth in it. Gin is at the forefront of the flavor. If there's no vermouth in the martini, it's considered "extra dry." Dry martinis are some of the most commonly ordered cocktails out there. 
This is the traditional martini cocktail you typically see in a martini glass with a green olive added.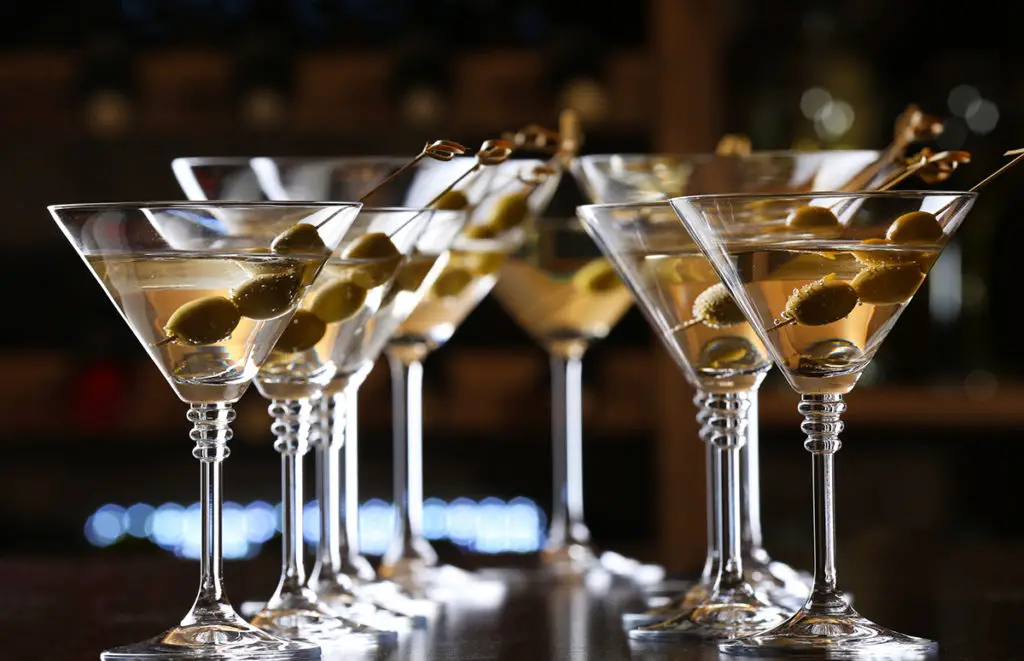 However, vermouth is a crucial ingredient in a classic martini. Why is this ingredient so reviled?
What Is Vermouth?
Vermouth is an Italian liquor that's commonly used in martinis and whiskey drinks. It's either sweet or dry and builds up the drink immensely. It has a bad reputation because it expires quickly, like other wines.
Vermouth is an imported, fortified wine originally from Italy. While some variations come from France, true vermouth is Italian. 
Vermouth is the backbone of so many a classic cocktail: 
The Sazerac
The Manhattan
The Negroni
The Martini 
Without dry vermouth, we wouldn't have most of the modern mixology.
Unfortunately, vermouth is also disliked, and it's often excluded from martinis because of an unpleasant flavor that can show up if the vermouth isn't fresh. This isn't the fault of the liquor but circumstance.
Vermouth is a fortified wine, which means that it can also go bad if it's not consumed quickly. The vermouth takes on a vinegar-like flavor the same way that wine does if it is left open for too long.
Because vermouth is an expensive liquor, many bars will hold onto the same bottle for an extended period. Vermouth should be used within two weeks to avoid going bad, but any longer than that, and it'll taste bad. It should also be kept in the fridge.
What is a Wet Martini?
A wet martini is a martini cocktail that is a bit on the sweeter side. Wet martinis are usually made by adding extra vermouth which adds to the sweeter or "wetter" drink profile.
3. Be Familiar With The Different Types of Martini Drinks Available
Before ordering, you should get to know what you want. There are so many different kinds of martinis available, and each one has different flavors, as well as several customizations to choose from. 
If you know what you want and what goes into them, you can order them at any bar that serves martinis. But, even if you don't know what goes into them, you can ask your bartender for recommendations if the bar isn't terribly busy.
Types of Martinis
There are several specialty martinis that you can pick, which have different kinds of flavors and liquors substituted for other ingredients.
Some of the most popular unique martinis are:
Dirty Martini – Adding a little bit of olive brine makes a classic martini a dirty martini.
Vesper Martini – Made famous by James Bond, it contains gin, vodka and Kina Lillet. It's usually served with a lemon twist instead of an olive.
Appletini – Made with vodka and a mixture of one or more of the following; apple cider, apple juice, apple brandy, or apple liqueur.
Lemon Drop Martini – A refreshing drink made using vodka, triple sec, lemon juice and syrup.
French Martini – A fruity flavored martini cocktail containing pineapple juice, raspberry liqueur, and vodka.
Cucumber Martini – Made with vodka or gin, vermouth and a few slices of cucumber for flavor and garnish.
Watermelon Martini – A watermelon flavored martini consisting of gin, vermouth and watermelon schnapps. Sometimes with a little lime juice as well.
Espresso Martini – Made with esspresso coffee, vodka, and kahlua.
Chocolate Martini – A dessert like drink containing chocolate liqueur, Baileys Irish Cream, and vodka.
Mexican Martini – Similar to a classic lime margarita but served in a martini glass.
Vodka Martini – A classic style martini only using vodka instead of gin.
All of these have unique flavor palates and can be perfect for different seasons. For example, the pomegranate martini could be beautiful for fall, and the watermelon martini is excellent for summer. 
There may also be special seasonal drinks you can find designed by the staff and bartenders. Some martini drinks might also be a specialty of a specific bar, which says that particular martini should be really good.
4. Order Your Martini With Confidence
Once you know what style of martini you want to drink, it's time to order. 
If you're at a restaurant, order the martini with your server, and make sure you clearly state what you'd like. 
If you're ordering at a bar, you need to be direct and to the point. Bartenders are busy people, bars tend to be crowded, and you need to be ready to go. Even if you have to write your order down, have your order prepared before you go. 
If something is wrong with your drink, don't be afraid to give the glass back and make sure it's right. Remember, politeness goes a long way, especially with a bartender at an upscale bar.
Patience is great, too, especially if you're ordering a custom martini. Your bartender may have never made a drink like yours before, and a little patience will make the whole experience easier and more enjoyable for everyone.
5. Enjoy Your Martini!
Now that you've ordered the martini, all you have to do is sit back and relax. Martinis are meant to be sipped, so don't down it. Enjoy the flavors and the subtle undertones and take note of what you like and dislike about this drink.
If there's something you don't like, you can make adjustments the next time you order.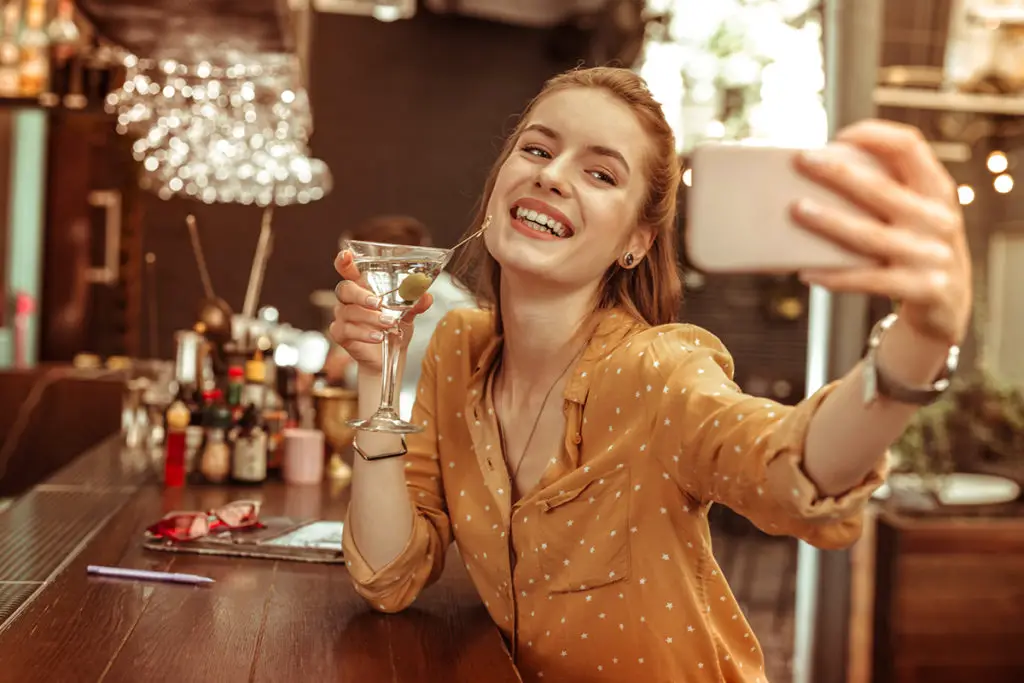 If all else fails, there's nothing wrong with returning a drink that you can't finish. Sometimes, a bartender might even work with you to get you what you want in exchange. 
Final Thoughts
Ordering a martini doesn't have to be intimidating or scary. It may seem like so much to learn, but the bar is your oyster once you gain this information.
You can order in style and enjoy a well-made martini.