If you're just delving into the world of craft beer, it's completely normal for you to be intimidated by beer connoisseurs and the words they use to describe beer. Although it may sound like they've studied beer flavor, texture, and aroma for years, you can quickly get a sense of what they're talking about by knowing the following 27 expressions.
How to describe beer using 27 terms:
Balanced
Bitter
Bright
Chocolate
Citrusy
Crisp
DMS
Fat
Floral
Frothy
Fruity
Hazy
Hoppy
IBU
Juicy
Light
Malty
Opulent
Pome Fruit
SRM
Robust
Rustic
Smoky
Sour
Sweet
Thick
Tropical
Even if you haven't taken classes or gone to extensive beer tasting experiences, you'll come across as a cultured and educated beer drinker if you can (correctly!) use one or several of these words. Keep reading to learn more about these 27 common terms used to describe beer.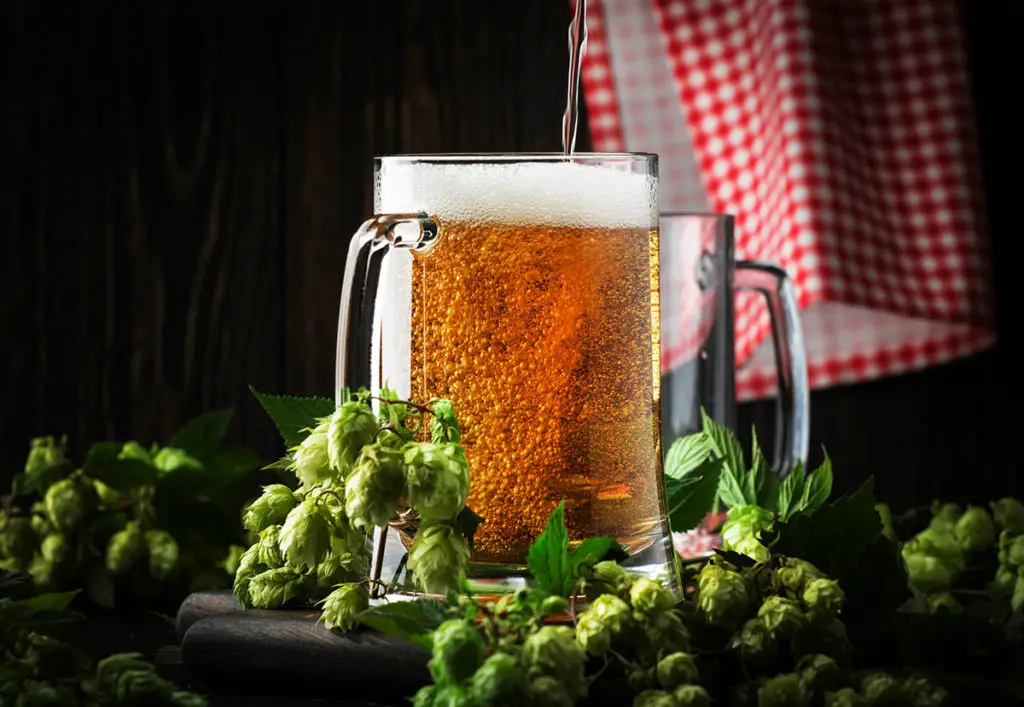 BEER DROP: Boxes of beer from Award-winning microbreweries → Join The Club
1. Balanced
A balanced beer is made with ideal proportions of bitterness, sweetness, alcohol, malt flavors, hop flavors, and carbonation. A well-balanced beer results in a smooth taste without any elements standing out from the rest. 
Although, a well-balanced beer doesn't necessarily mean it's of higher quality. Some beers—like IPAs—are made deliberately unbalanced to make one flavor profile stand out. 
2. Bitter
The bitterness of a beer depends mostly on how unbalanced it is in favor of the bitterness profile. Not to be confused with IBUs, bitterness refers to the perception of bitter flavors in the beer profile. 
That means a beer with a higher IBU may taste less bitter if it's more balanced than a beer with a lower IBU. In most cases, bitterness is added to a beer to balance out the sweetness in the alcohol. Thus, in general, the higher the ABV (alcohol by volume) of a beer, the more bitterness it'll need to balance out the sweetness of the alcohol.
3. Bright
Brightness refers to the color of the beer; specifically, how transparent it is. Bright beers no longer have yeast in suspension. Because of this, the resulting golden liquid will be crystal-clear and easy to see through. 
4. Chocolate
Many malt beers have a surprisingly chocolatey taste, even if cocoa wasn't involved in the fermentation process. This is because chocolate malt and black patent malt can result in a smooth chocolate taste and a very dark-brown beer. 
5. Citrusy
You might be familiar with putting a lime down a Corona, but that doesn't necessarily make a beer citrusy. The term citrusy originated with beers like Hoegaarden and Stiegel, which incorporated orange peel and grapefruit juice into the brewing process. A citrusy beer will have distinct citrus notes and a light pale appearance.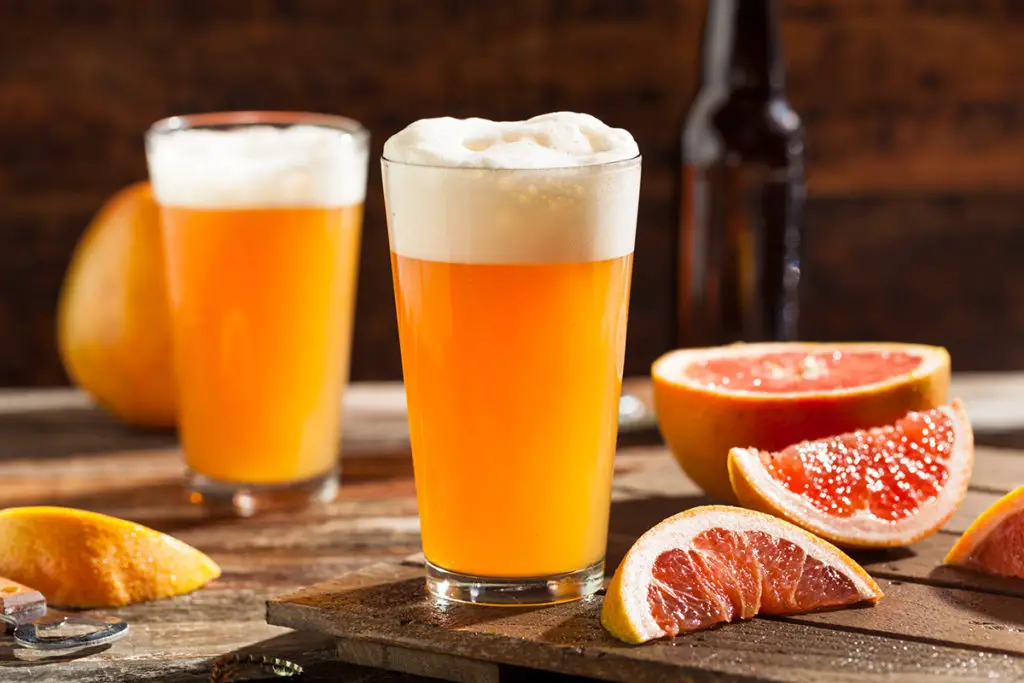 6. Crisp
Crisp refers to a beer's dryness, which means it'll have low residual sugars and high carbonation to have a clean finish. In other words, its taste won't linger in your mouth for a long time after taking a sip.
Remember, a crisp beer doesn't necessarily have to be bitter or unsweet. For example, pilsners are generally good examples of sweet, crisp beers. 
7. DMS
Dimethyl Sulfide (DMS) is a type of oceanic sulfur that naturally occurs during the beer's fermentation stage. DMS is considered a beer off-flavor and is usually removed or minimized during production to avoid its distinctive corn taste. 
8. Fat
Fat beers usually have very high ABV and glycerin levels, giving them a more robust flavor profile. You'll know you're dealing with a fat beer if it has a strongly pronounced flavor. It could be malty or hoppy, but it'll always bring an intense flavor.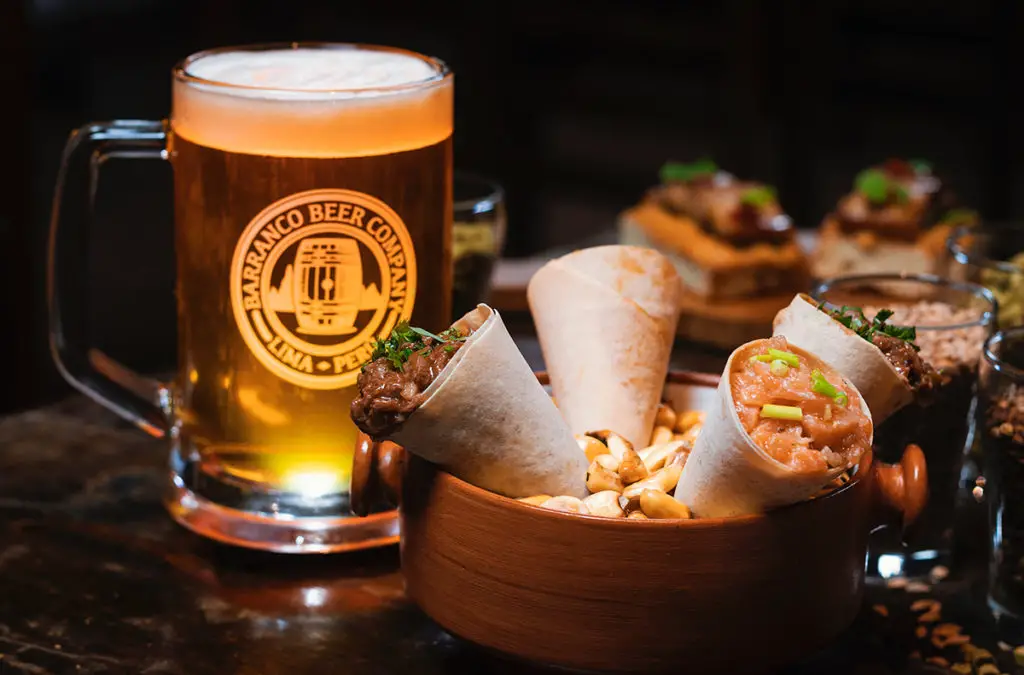 9. Floral
Although your grandma's perfume might come to mind when you think of floral notes, a floral beer shouldn't have that same connotation. Floral beers include flowers in the fermentation process to give the beer a delicate floral taste that doesn't overwhelm its base flavor. 
Common flowers used in floral beers include jasmine, rose petals, cherry blossom, and lavender. 
10. Frothy
Frothy beers produce a lot of bubbles or gas that quickly rise to the top and form the iconic white foam layer of beers. Also known as a beer head, this foam is formed when the carbon monoxide from the beer rises to the surface. 
Beer heads aren't necessarily a negative feature of a beer, and whether or not you enjoy a good foam layer on your beer is entirely up to you. If you would rather avoid the beer head, watch this video below to learn how to pour a beer without foam:
​​
11. Fruity
Fruity beer is exactly what it sounds like—beer that tastes like fruit. It has been fermented with fruits like strawberries, cherries, raspberries, and plums to gain a distinctive fruity taste. 
Many fruity beers are non-alcoholic or low in alcohol. You can tell if a beer is fruity if it gives off a fruity aroma or if it has a distinctive fruity taste.
12. Hazy
Hazy IPAs have become very popular in recent years. They're called hazy because they look cloudy, foggy, or opaque, thanks to free-floating proteins in the beer. 
Although brightness has been a pillar of beer quality for many decades, hazy IPAs prove that transparency isn't necessarily equated with good taste. Haziness can help enhance aroma and taste by keeping the natural beer by-products floating happily in the beer. 
13. Hoppy
Beer hops are cone-shaped flowers that look almost like an artichoke. Hops make beer and provide the distinctive 'beer' taste. Although many would incorrectly refer to hoppy flavor as bitter, a hoppy flavor refers to complex flavoring in beer. 
Conventional beer manufacturers tend to hide the flavor of hops in their beer to achieve a smoother taste. The taste of hops is usually what differentiates a craft beer from a conventional, mass-market American lager. 
14. IBU
IBU stands for International Bitterness Units. It measures the parts per million of isohumulone from hops, which works as a scale of beer bitterness. 
Keep in mind, IBUs measure actual bitterness as opposed to perceived bitterness. As you already know, a well-balanced beer will have a well-rounded flavor profile to give it a smooth taste. If your beer is well-balanced, it won't taste bitter, even if its IBU is high. 
15. Juicy
Juicy is one of the newest terms used to describe beer. Although similar to 'fruity,' a juicy beer is supposed to evoke the ripe sweetness of biting into your favorite juicy fruit. These beers tend to be hazy and low in bitterness, giving you a fully immersive and very sweet experience.
It's worth noting that the definition of the term 'juicy' is still evolving, so don't worry about sticking to a strict definition. You can generally refer to a beer as juicy if it contains tropical, citrusy notes with a thick and full consistency. 
16. Light
Light beer in the United States refers strictly to the number of calories in it. As opposed to other classifications in this article, the taste, texture, appearance, or aroma of a beer has no significance on whether or not it's classified as beer. 
According to the FDA, a product can be classified as light if it has at least 33% fewer calories than the regular product. As such, light beer will simply have fewer calories than regular beer.
17. Malty
Malty beers are generally considered to be on the sweeter side. A malty beer will usually have notes of caramel, toffee, toast, or even fruits. Amber, dark, and rye beers are generally considered malty in flavor.
18. Opulent
Opulent beers are very similar to fat beers. They have big and bold flavor profiles with high alcohol and glycerin levels. Opulent stouts are very popular beer types, favored for their distinctively rich and thick flavor and texture.
19. Pome Fruit
Pome fruit is similar to fruity beer, except this term refers strictly to fruity beers made with pome fruits. This includes apples, pears, quinces, medlars, loquats, and Asian pears. If you spot any of these flavors in your beer, you'll know you're dealing with a pome fruit beer.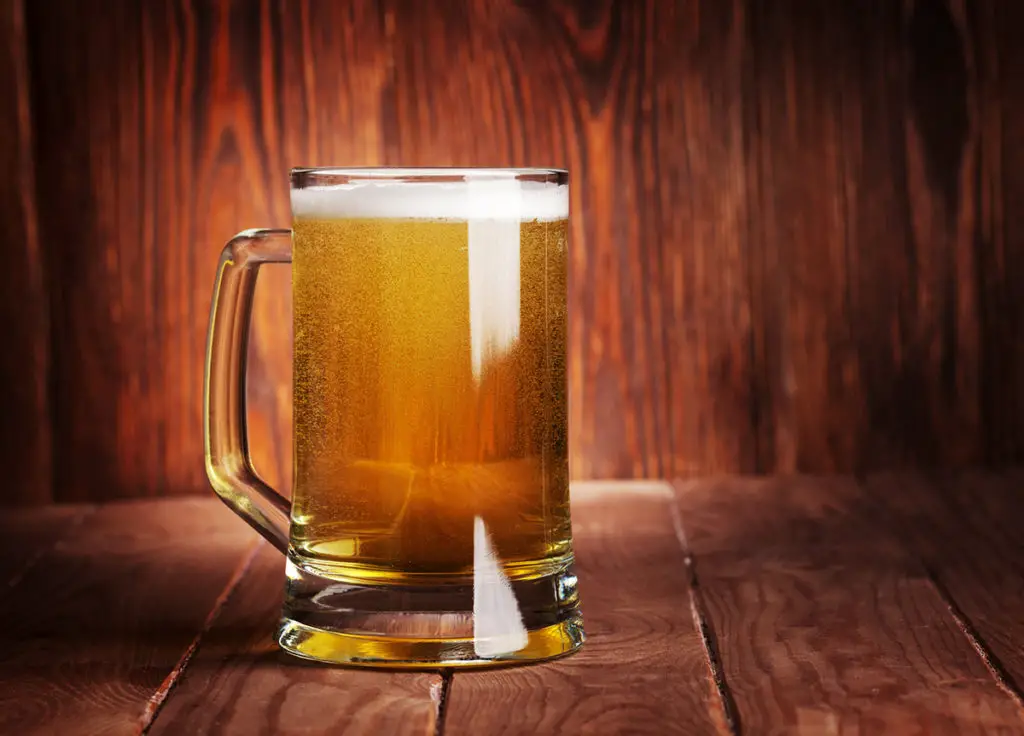 20. SRM
The Standard Reference Method (SRM) of a beer refers to its color classification. Lighter, more pale beers will have a lower SRM (2-6 SRM), while darker color beers will have a higher SRM (20 and above).
21. Robust
Robustness refers to beers that are rich in flavor, texture, aroma, and body, and tend to have higher alcohol levels. In other words, a robust beer has a lot of everything. Robust Porters are some of the most popular types of robust beer.
22. Rustic
Rustic beers are usually developed using old-school brewing techniques. Many rustic beers are organic and seek to preserve the original taste and flavor of the beer. They're usually rough around the edges and may have a funky taste for those not used to consuming them.
23. Smoky
Smoky beers are treated with smoke to infuse some smokiness into the flavor profile. These are traditionally made in Germany and add a smoky layer to the beer base.
24. Sour
Sour beers use the bacteria and yeast generated during brewing to add a sour flavor to the beer base. Because this sour flavor is usually attained thanks to probiotic bacteria like Lactobacillus and Pediococcus, sour beer is some of the healthiest beer you can find today. 
25. Sweet
Sweet beer is characterized by—you guessed it—a noticeably sweet flavor that hides some of the hoppy flavors of beer. In other words, a sweet beer won't taste a lot like regular beer as it'll have other flavors like fruit and caramel that outshine the hops. 
26. Thick
Beer thickness refers to its consistency, texture, and mouthfeel. Typically, darker beers will be thicker than brighter beers. You can usually gauge a beer's thickness by how thick it feels in your mouth when you take a sip.
27. Tropical
Tropical beer is a fruity beer with notes of tropical fruits. Coconuts, pineapple, and passionfruit are common flavors of tropical beer. This beer is originally from the Canary Islands in Spain but now can be found in many breweries across the United States.