If you spend a lot of time researching beer, brewing, and the likes- you may have come across the term Spotted Cow. And no- it's not some medieval bovine disease, but rather a beer; an ale to be precise. 
If you want to find out more about this peculiarly named beverage, then you've come to the right place. In this piece, we'll guide you through everything you'll ever need to know about Spotted Cow, what it means, where it comes from, how it's made, and where you can get your hands on some.
Let's dive in! Or rather, hop in. 
So, What Is Spotted Cow?
The well-known Spotted Cow beer is a farmhouse ale based on what the earliest German settlers in America brewed. It is New Glarus Brewing Co.'s flagship beer.
The beer is made with a combination of Pilsner malt, white wheat malt, and caramel malt. The water comes from a well on the brewery grounds and has a harsh taste.
The magnificent Saaz hops, which are gathered during harvest each year, and German ale yeast are incorporated in Spotted Cow.
Spotted Cow beer has been referred to as a cream ale, but because this is an unfiltered beer, the usual style standards do not apply, instead, the brewery simply refers to it as a farmhouse ale.
Dan Carey, the brewery's founder, had the inspiration after having visited a museum and seeing a German farmhouse with a brew simmering on the oven shrouded in fabric. That made him think about the 1850s and the German migrants and their apparent thirst for beer.
What Is Meant By "Farmhouse Ale"?
The undulating hills of France and Belgium are where the Farmhouse ale gets its name. This beer variety is not a single beer style, but rather a group of beers with distinct limits.
When it comes to Farmhouse ale, there are two basic kinds to consider: Saison and Biere de Garde. Remember: farmhouse ales are not defined by the features of a type of beer.
A saison was typically a pale ale with an ABV of around 7%. Beer is usually extremely carbonated, flavorful, peppery, and bottle cured.
Originally, most Saisons were lighter beers with ABVs ranging from 3 to 4 percent. It served as a source of refreshment and comfort for the hardworking farmers.
A Biere de Garde is a robust pale ale that is historically brewed in France's Nord-Pas-Calais region. To prevent unpredictability with the yeast, these beers were brewed throughout the winter and spring.
The beer's hue was often amber to golden, and it had a higher alcoholic content than Saisons.
What Does Spotted Cow Beer Taste Like?
According to the brewery's founder, Dan Carey, Spotted Cow beer has "a subtle fruitiness of peach, orange, apricot, and banana. It's mildly sweet with a somewhat sour twang at the end. And, of course, it has to have a mild haze.
Not too much haze, but a good consistent one. Most Americans are not comfortable with haze, you know."
How Is Spotted Cow Best Enjoyed?
According to the New Glarus Brewing Co.'s official website, Spotted Cow is a fun, fruity, and satisfying naturally cloudy farmhouse ale. It's available in 6 packs, 12 packs, cases, ½ barrels, ¼ barrels, and 12 can packs. 
When it comes to food pairing, they state that Spotted Cow is enjoyed best with:
Grilled Steak
BBQ
Nachos
Brats
Reuben
Jambalaya
Seafood
Chicken Sandwich
Steak
Limburger Sandwich
Cheese Curds
Stir Fry
Wings
Pork Rinds
Burger and Fries
Bacon and Eggs
Potato Chips
Tilapia Filets
Fish Fry
How Is Spotted Cow Made?
Spotted Cow is unique from other farmhouse ales in that it is brewed in accordance with German purity laws – typically, different spices are included in the last 5 minutes of the boil.
When brewing a farmhouse ale, use light malt to avoid overpowering the hop, spice, and yeast flavors. Instead of the normal pilsner malt, malted barley is used in this beer.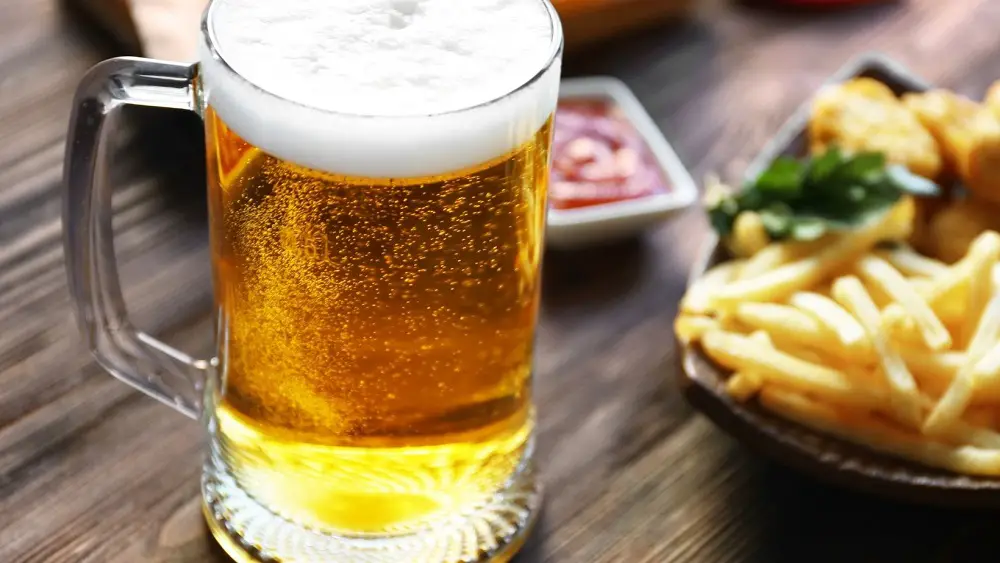 BEER DROP: Boxes of beer from Award-winning microbreweries → Join The Club
This imparts a stronger orange flavor to the beer. In most cases, other grains are also involved in the manufacturing of farmhouse ale. Malted wheat is also employed in the spotted cow, and it can account for up to 30% of the grain budget.
What Is The German Purity Law?
The Spotted Cow is brewed in accordance with Germany's world-famous purity law. For more than 500 years, German beer has been produced in line with the purity law, using just the four ingredients specified in the legislation.
As a result, German brewers developed a range of beer that is unparalleled anywhere in the world. The purity legislation demands that only barley, hops, and water be used in the production of beer.
Because the usefulness of yeast in beer was recognized in 1516, it was added later. In 1906, the law became applicable to all beer breweries in Germany.
Is Spotted Cow Healthy?
The Spotted Cow has 150 calories per serving and a 5.1 percent ABV to go along with it. It also has 37grams of carbohydrates. Because it is a craft beer, you could claim that the spotted cow is a "light" beer, but this may be a reach.
If you're still apprehensive about drinking this beer, I can reassure you that 150 calories can be burned in just 15 minutes of jogging (or 55 minutes of cleaning your home). There is no reason not to crack open another one.
Is Spotted Cow Beer Any Good?
If you like a good, robust farmhouse ale; then spotted cow is probably right up your street. And it's no surprise that they have a huge cult following and are the recipient of constant floods of praise on online forums.
But it's not just word of mouth; Spotted Cow has won their fair share of awards too. According to their website, Spotted Cow has been awarded the following:
2011Best Craft Beer – Gold -Madison Magazine
2010Best Ale – Janesville Kiwanis Fall Festival of Ale
2010Best Local Craft Brew – GoldMadison Magazine
2009Best Drink in WI; What to Drink – Bon Appetit
2009Top 10 Beers Without GABF Hardware – Draft Magazine
2008Top 6 Draft Picks – Chicago Magazine
200812 Best Beers- July – Network Twenty
2007Best Ale – Fall Fest of Ale
2006Madison's Favorite Microbrew – Isthmus
2006Top 3 Summer Beers – The Post-Crescent
2002Best of Wisconsin – Wisconsin Trails Magazine
The success of the beer is evident when you consider that New Glarus makes over 45,000 barrels of Spotted Cow each year, accounting for approximately 40% of all beer brewed by New Glarus. It is the best-selling craft beer in Wisconsin, as well as the most well-known beer in the state.
The beer is moderate while remaining complex. Because of the overpowering hops, it does not turn consumers off as most IPAs do. Many individuals believe that the beer's popularity stems from its exclusive availability.
This beer is not available outside of Wisconsin, therefore you'll have to visit the state of Wisconsin to get your paws on it.
Is There Sediment In Spotted Cow Beer?
Spotted Cow is an unfiltered brew, which simply means that the brewer's yeast is still present in the mixture. Brewer's yeast is high in vitamins and minerals, and it lends the final layer of flavor to this brew. It is high in Vitamin B and potassium, and it also contributes to a smooth palate feel and delicious bready flavors. 
The brewer's yeast will occasionally sink to the bottom of bottles that have stood up straight and static for a long period while waiting to get to you (either during transit or sitting on a shelf at your local establishment), so it's always a smart option to reintegrate the yeast for the flavor and vitamins it adds.
To do so, carefully place the bottle on its side on a level surface and slide it back and forth with the palm of your hand.
But if you do happen to notice some sediment at the bottom of your bottle of Spotted Cow beer, don't panic- it's completely safe. As mentioned above, it's a harmless byproduct of the natural brewing process. It won't hurt you, and can actually help to improve the taste of your drink. 
Who Created Spotted Cow Beer?
Spotted Cow is the brainchild of Dan Carey, the founder of New Glarus Brewery. And he's a pretty well-known figure in the world of microbrew. Dan Carey has worked in the Brewing Industry since the age of 20.  
He earned his Bachelor's Degree in Food Science with an emphasis in Malting and Brewing Science from the University of California at Davis in 1983. 
He served his apprenticeship at a small brewery near Munich, Germany, and has operated and constructed numerous breweries throughout the United States. He was valedictorian of the 1987 Siebel Institute Course in Brewing Technology.
He successfully completed the Institute of Brewing and Distilling Diploma Examination and their Master Brewer Examination in the early 1990's. 
Prior to starting New Glarus Brewing Company, he was a supervisor at Anheuser-Busch.
Dan won the Association of Brewers 2003 "Small Brewer of the Year" Award, the 2005 and 2006 "Mid Size Brewery of the Year" Awards, as well as the 2006 "Russell Scherer Award for Innovation in Craft Brewing."
Deborah Carey is the Founder and President of the New Glarus Brewing Company, and wife of co-founder Dan..
One of life's entrepreneurial spirits, she raised the capital for the start-up as a gift to her husband, establishing her as the first woman to found and operate a brewery in the United States. 
She is a native of Wisconsin. She attended Carroll College in Helena, Montana majoring in marketing and graphics. 
An entrepreneur at heart, she started her first business at the age of sixteen.
After studying Business with the S.B.A. and Clackamas College in Portland, Oregon Deb met the challenge of establishing the New Glarus Brewing Co. in 1993. As Founder and President of "One of the Top Ten Breweries in the World", she does everything—except brew the beer.
Carey re-evaluated the recipe a few years ago when concerns about GMOs began to surface. Because he couldn't guarantee that GMO grain wasn't mixed in with the natural crop, he made the recipe entirely malt.
The only thing they did to raise awareness was to remove a mention of corn from the label copy. Few people were aware.
This could be attributed in part to the brewery's switch to a low-protein malt, as corn dilutes the protein in the mash. As a result, making this swap retained the beer inside its current boundaries.
Other honorable mentions from New Glarus Brewing Co.
Although Spotted Cow is certainly the reigning champion when it comes to Wisconsin beers. 
What Other Varieties Do New Glarus Brewing Co. Make? 
Year-Round Beers
Two Women – This is a classic country lager that was made to commemorate the collaboration between two Craft companies, both of which were owned by women.
This lager is crisp, well-balanced, and satisfying, to say the least. Pair it with some pork chops, steak, or pan-fried trout to really get the most out of it.
Moon Man – This is a no coast pale ale that is unapologetically bold and engaging without pretense. Pair this beer with some burgers or a spicy curry.
Raspberry Tart – This is a Wisconsin Framboise ale with a voluminous raspberry bouquet flavor. Pair this one with pancakes or some grilled chicken. It goes great with desserts too, especially chocolate fudge brownies or lemon cupcakes.
Seasonal Beers
Cabin Fever – This is a Wisconsin-style Honey Bock and it is created with an exclusive mixture of Wisconsin barley providing an ideal match for the unique European hops.
During the brewing process, naturally sweet clover honey is added to accent warm flavor notes. Pair this beer with a spicy curry or some mature crunchy cheddar.
Totally Naked – This is a Wisconsin lager that has a fine, mature aroma and no coarse bitterness. This beer has a light gold hue that shines bright in the sun.
This beer is brewed without artificial additives using only natural ingredients. Pair this beer with Mexican dishes such as burritos, nachos, and guacamole.
Fat Squirrel – This is a nut brown ale with a toasted hue and clean hazelnut notes result from these carefully selected barley malts. Hops from Slovenia, Bavaria and the Pacific Northwest are what give Fat Squirrel its backbone.
Pair this beer with some super cheesy pizza or something sweet such as sticky toffee pudding or chocolate fudge cake.