No matter what sort of brewing you're into, you're going to need a brewing kettle that's up to the task, but don't just settle for the first one you find.
The kettle is where the magical wort to beer process truly begins, so you need to find one that's just right for your boozy operation.
Choose the wrong type of brew kettle, and you may end up dealing with constant overboils, burns, degraded metal surfaces, and a subpar finished product that you couldn't even palm off at a college kegger.
Don't worry, though, brewers, I won't let your beer suffer that fate. After weeks of research, I was able to curate this list of the 8 best brewing kettles you can buy.
Best Brew Kettles For Home Brewing on a Budget
Right then; I think I've waffled for more than long enough. It's time to get down to business and check out 8 of the best brew kettles you can buy. I'll begin with the best budget picks.
OUR TOP PICK
No products found.
Concord Stainless Steel Home Brew Kettle (Amazon)
EDITORS CHOICE
No products found.
Bayou Classic 16-Gallon Stainless Steel Brew Kettle (Amazon)
BEST VALUE
No products found.
GasOne 8-Gallon Brew Kettle (Amazon)
OUR TOP PICK
No products found.
Crafted entirely from commercial-grade, 304 stainless steel, this Concord brew kettle can certainly roll with the punches, so if you're after a long time brewing partner, it won't let you down.
It has a single-layer base, so it's not quite as snappy on the conduction front as it could be, but you can't sweat the small stuff at this price tag, especially as it arrives with some other pretty nifty features.
Check out the external thermometer, for instance, keeping you informed on the thermal goings-on inside. Using this handy gizmo, you can fine-tune each brew to achieve new and exciting flavors.
Then, of course, there's the weldless ball valve that smooths the kettle-to-fermentor transition, and dislodges to make clean-up a total breeze.
Pros
304 Steel – Durable and inert.
5-45-Gallon Capacities – Concord has whatever you need.
Sight Thermometer – Helps achieve different flavors.
Ball Valve – Easy transitions and cleaning.
Cons
Single Layer Base – Limited conductivity.
EDITORS CHOICE
No products found.
This brew kettle is a 16-gallon unit, perfect for BIAB or large batch all grain brewing, and it's crafted predominantly from 304 stainless steel, meaning it's non-reactive and tough as old boots.
You may have noticed I used the word "predominantly" there, and that's because it features a tri-layer base with an aluminum insert that speeds up and evens out heat transfer for an optimal boil.
It also has a false bottom and filter screen to keep the trub at bay and your beer silky smooth.
All weldless, it arrives with a ball valve for easy wort transitions, and a sight thermometer, ensuring that you're always in control of the boil. The only things this brew kit is missing are actual bells and whistles.
Pros
Weldless 304 Steel Construction – Durable, inert, and easy to clean.
False Bottom and Trub Screen – Separates trub from wort.
Ball Valve – Easy wort extraction.
Tri-Layer Base – Better thermal conduction.
Cons
Price – The extra bump the price up.
BEST VALUE
No products found.
This dinky dynamo from GasOne has an 8-gallon capacity, which means it's only really suitable for micro-batches using the extract brewing method, but if you're looking to make beer on a budget, it's a great choice.
Crafted from stainless steel, it's durable and inert, meaning your beer won't end up tasting like the T-1000 Terminator, and the tri-ply base with a sheet of sandwiched aluminum guarantees fast conduction and even heat distribution.
Etched into the inside wall are volume markings, so you don't have to worry about measuring out your wort; it does it for you, saving you time and energy that could be spent completing the batch.
An external thermometer allows you to keep track of boil progress, and thanks to the ball valve, extraction is a total cake-walk.
Pros
Price – Great value for money.
Tri-Ply Base – Snappy, even conduction.
Volume Markers – Discover wart volume with a glance.
Stainless Steel – Inert and durable.
Cons
8-Gallon – Not a very versatile capacity.
RUNNER UP
No products found.
Constructed out of high-quality stainless steel with a reinforced band around the rim, you'll be handing the Megapot down to your children, and they theirs, even if you're all prolific brewers.
The tri-clad base promotes a speedy boil and even heat distribution, while the 4mm diameter prevents ingredients and grain bags from catching when you kick the burner up a notch or two.
Arriving with an external thermometer, you're never out of the loop regarding thermals, and the IsoFlow bulkhead fittings make adding or swapping accessories a breeze.
The silicone handles and the internal volume etchings are just the icing on the brew kettle cake, making transportation and wort measurement safe and effortless.
It's a 10-gallon kettle, but if you need a different size, there are 8-30-gallon variants available.
Pros
Tri-Clad Base – Offsets poor conductivity of steel.
Steel Build – One tough cookie.
Silicone Handles – No more burns, baby!
Volume Markers – No awkward alternative measurements required.
Cons
10-Gallon – Not enough for larger batches.
RUNNER UP
No products found.
This Bruman masterpiece doesn't even require a burner to bring your wort to the boil.
Using nothing but the power of electricity, it cooks up your brew to perfection, and once 45-60 minutes have passed, the built-in wort cooler gets it ready for fermentation in record time.
Featuring a triple-layer base, should you choose to do things the old-fashioned way and use the stove, your brew will heat quickly and evenly.
Included with purchase is a 6-inch wort filtration screen for keeping the trub out of your delicious brew, a stirring paddle, so you can eke out every last millimeter of wort, and a bimetallic thermometer, giving you more control over the final product.
Pros
Electric – No fire necessary.
Integrated Cooler – Cools quickly for super clear brews.
Stirring Paddle – Boosts your wort return.
Tr-Clad Base – Great on a stove.
Wort Filter – Keeps the trub where it belongs.
Cons
9-Gallon – Small batches only.
RUNNER UP
No products found.
This absolute beast of a brew kettle is completely weld-free, and not because everything's loose, but because it's made entirely of one piece of 304 stainless steel, making it the toughest kettle on the list so far.
But it's not just the craftsmanship that needs to be commended here, it's, well…it's everything. The external contents gauge gives you an accurate reading on wort volume, and the dedicated Brewmometer temperature glass is super accurate.
You're also treated to a glass-filled nylon handle that's both cool to the touch and incredibly durable, and as if that wasn't enough, it's fitted with a patented G2 linear flow valve, enabling you to tweak your flow rate for lautering, chilling, and sparging.
This fine kettle makes everything so effortless, I'd almost consider it cheating.
Pros
One-Piece Construction – It'll outlive us all.
G2 Valve – Fine-tune your flow rate.
External Volume Gauge – Forget internal etchings!
Brewmometer – Highly accurate external temperature gauge.
Nylon/Glass Handle – Safe to handle without gloves.
Cons
RUNNER UP
No products found.
The Edelmetall is Northern Brewer's flagship offering. Boasting a tangential whirlpool port, your worts are going to be crystal clear, amounting to the purist possible flavor and body, and thanks to the IsoFlow dip tubes, you get the maximum return on every single batch — Hurray!
It's a solid 304 steel kettle with zero-internal threads, taking the pain out of clean-ups, and the adjustable external thermometer ensures you're never out of the loop mid-boil.
These extras are, of course, amazing, but what really seals the deal for me is that the Edelmetall also has the basics on lock.
Just look at the 4mm tri-clad base that heats quickly and evenly, leading to super-accurate thermometer readings, and ultimately, an infinitely more sippable beer.
Pros
Tri-Clad Base – Even heating.
304 Steel Construction – Durable as they come.
Whirlpool Port – Clearer final product.
Dip Tubes – No wort left behind.
Cons
Price – You've got to be serious about your brews.
RUNNER UP
No products found.
Kegco doesn't put a foot wrong with the XBK30-T3. Solid 304 steel construction ensures a lifetime of service, the super compatible weld-free bulkheads open tons of doors for customization, the triple-layer base heats evenly, and the internal markers communicate wort volume at a glance.
It also features silicone-coated handles, so your hands are safe whether you have heat-proof mitts or not, and better still, the lid has been designed in such a way that it can be hung on the handles.
This thoughtful little facet of design means you can free your hands up as soon as you pop the top, and as it makes no contact with surrounding surfaces, you don't have to worry about contamination.
Pros
304 Steel – Basically indestructible.
Silicone Handles – Cool and grippy.
Volume Markers – Instant volume details.
Tr-Clad Bottom – Even heat conduction.
Lid – Hangs on handle to free hands.
Cons
No Advanced Extras – Pretty basic package.
The Essential Brew Kettle Buyer's Guide
Brew kettles seem like simple bits of equipment…it's just a pot, right? Well, yes and no.
The humble brew kettle is actually a deceptively complex instrument, and the nuances of their design can have a huge impact on the brewing process and the beer babies you end up with at the end.
So, to give you the best possible chance of finding the brew kettle that's right for you, I've composed this in-depth brew kettle buyer's guide.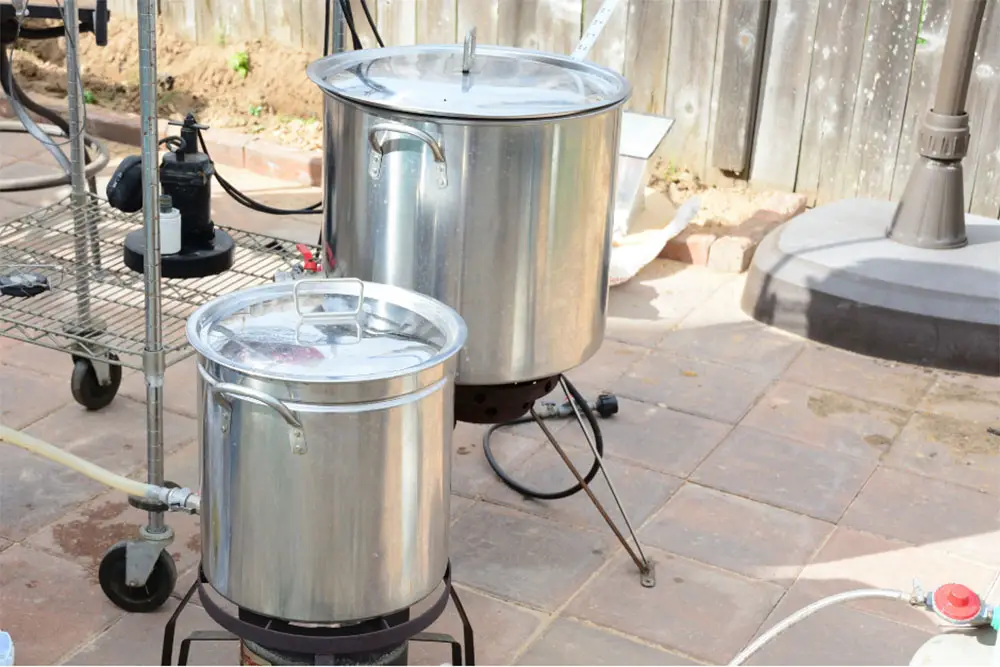 BEER DROP: Boxes of beer from Award-winning microbreweries → Join The Club
Testing the Metal's Mettle
Until an asteroid made of some sort of alien material 40 times as strong as steel and 40 times lighter than aluminum crashes into Earth, the only suitable material we have to work with in terms of brew kettles is metal.
Stainless steel is incredibly resilient, especially if it's food-grade 304 stainless steel.
It's corrosion resistant, highly durable, and completely inert, by which I mean the metal won't react with your brew and ruin the flavor.
The only real downsides to steel pots are the weight and weak thermal conductivity.
As I'm sure you're already aware, aluminum is a much softer metal than steel, so it's more susceptible to denting and warping, but don't rule this delicate metal out just yet.
Aluminum is incredibly lightweight, making it much more manageable, especially if you need a particularly large brew kettle. It's also a much better thermal conductor, so it will heat up in an efficient and even manner, streamlining the boiling process.
Sounds pretty good, right? But unlike steel, aluminum is an exceedingly reactive metal.
What does this mean? Well, in science-y terms, it means that it's capable of passing on electrons to any acidic or alkaline substances that cross its path.
In simple terms, aluminum will leach into certain substances, altering the flavor, while the metal will gradually degrade.
That means that if you're not careful, you could end up with a metal-infused wort, and unlike iron, copper, and zinc, there is no physiologic aspect to aluminum, so it needs to be kept out of our bodies.
Aluminum may also emit toxic gas if exposed to harsh chemicals, so using mild soaps during cleaning is essential.
Fortunately, giving your aluminum kettle a patina by boiling some water in it before adding your wart can help to nullify its reactivity. It does so by transforming the surface into the much more resilient aluminum oxide.
This layer can be broken down, but as most beer recipes aren't caustic enough to do so, it should be all the protection you need. My advice is to do a pre-boil before every use.
If you want the best of both worlds, you can invest in a brew kettle with a tri-clad base that has steel on the outside and an aluminum sheet in the middle. These kettles are durable, inert, and exhibit great thermal conductivity.
Kettle Size
You may have heard that size doesn't matter in other walks of life, but when it comes to brew kettles, size is everything!
That's not to say that bigger is better, just that you should tailor the dimensions of your kettle to the size of your brewing operation.
If you're only going to be brewing micro-batches, you won't need a full-on witch's cauldron, so you can save yourself a few bucks and choose something a little more modest.
Likewise, if you're on a BIAB kick, and need to do your mashing and boiling in a single vessel, a small receptacle is simply out of the question.
Let's have a closer look at different brewing methods and how they can affect your choice of kettle size. We'll use a 5-gallon (13-liter) batch as the example across all methods.
Extract Brewing – This brewing method doesn't foam quite as much as the alternatives, so an 8-gallon (30-liter) kettle should provide more than enough space to prevent your wort from boiling over.
All Grain Brewing – Even though you may be brewing the same volume of beer, if you choose the all grain method, you'll need a slightly larger kettle to accommodate the grain bill. Something along the lines of a 10-gallon (38-liter) kettle will be just the ticket.
Brew in a Bag – As I touched upon earlier, BIAB requires a single pot for both the mash and the boil, which means you'll need extra room to cover your mash and sparge with water. A 10-gallon kettle isn't out of the question for a 5-gallon brew, but I'd err on the side of caution and choose something more to the tune of 15 gallons (57 liters).
I know, I know…it's going to cost you, and it's going to devour space, but a big brew requires a big kettle.
Short and Wide or Tall and Thin?
I've got some bad news for the shorter brewers out there. All the best brew kettles are tall, so prepare your tippy-toes for a workout.
That's right, folks, the high sides of a tall kettle prevent excess evaporation and reduce the chances of an over-boil, which is why you'll mostly find brew kettles with a 1.2:1 height-to-diameter ratio.
It's not that a stubby kettle will kill your dreams of crafting a delicious beer, it just won't be quite as tasty as one made in a tall kettle, and you'll have to keep an eye out for the dreaded boil-over.
Volume Markers – A Gift From the Gods of Beer
Volume markings are simply markings etched into the interior of the brew kettle, so you know exactly how much wart you're dealing with.
It's not an essential feature, but it's way better than using an army of measuring jugs to calculate the volume of your wort, trust me!
Advanced Features – Transcending the Basics
Okay, so we've covered all the really important stuff, but here's the thing…this isn't an article about the most mediocre brew kettles, it's an article about the best of the best, so this buyer's guide needs to cover a few advanced features too.
Grab Your Kettle By the Ball…Valve
Don't get me wrong, I appreciate the old-school tradition of siphoning off the hot wort as much as the next brew-head, but a ball valve makes things way easier — no two ways about it.
Without this trusty valve, transporting the hot wort is straight-up dangerous, especially if you're working on an absolute motherload of a brew, so if you can stretch your budget just a little, you won't regret it.
If you do have the funds for a ball valve kettle, you now have two options: Are you going to go weldless, or are you going to play it safe and find one with a welded fitting?
If you choose door number one and go weldless, congratulations; you'll save a pretty penny, but as they rely on gaskets to create a liquid-tight seal, they can leak on occasion, and some of your alcoholic offspring will end up on the cold hard floor (goodbye, sweet child).
The good news is that it's a pretty easy fix. Throw some seal tape (Amazon) over the problem area, and voilà; you're sorted.
Choosing door number two will mean saying goodbye to your savings accounts, but saying hello to a completely reliable, totally leak-proof brew kettle.
My one caveat is that if something goes wrong with a welded ball valve, they can be tricky to replace, so you may end up having to buy a whole new kettle.
Thermometers: Measures of Temperature and…Taste?
The temperature of your boil is far more important than a lot of home brewers think.
Temperature dictates how much and what kind of digestible sugars are produced when the starch of the grain is broken down, which means it also controls the alcohol and calorie content, the flavor, and the body of the final product.
In light of this, having clear visuals on the temp of your wort at all times is absolutely essential.
For those that have them, the analog thermometer is normally found just over two-thirds of the way down the inside of the kettle, strategically placed to read the true temperature of the wort without picking up interference from the burner.
But a quick warning before we move on to the next must-have non-essential.
A built-in thermometer can get in the way if you like to use an immersion wort chiller to bring it down to yeast-pitching temp quickly, but counterflow or plate chillers pose no such problem.
Dip Tubes – The Wort that Got Away (Usually)
You know when you're slurping away at the dregs of your XL soda, and you just can't quite get the straw in the right position to get all the liquid? Well, the same sort of thing happens when you're extracting wort from a kettle.
Often referred to as pickup tubes, dip tubes can solve this issue. Fitted to the back of either the spigot or ball valve, these little tubes extract as much wort from the trub as possible.
You may still have to give the kettle a quick jostle to optimize your wort return, but you won't have to straight-up wrestle it, which is especially handy if it's a rather large, heavy receptacle.
Dip tubes can be located on the inside center or edge of the brew kettle.
If you like to whirlpool your boil with a mixing paddle (Amazon), you're best off choosing lateral dip tubes, as they'll prevent central hop residue and hot and cold break from hitching a ride with your wort.
For fancy brew kettles with false bottoms or hops filters, central dip tubes are the wisest option as they can siphon the wort directly from beneath the filtration device without taking on any unwanted guests.
Do bear in mind that even the good filters let particulate matter slip through the cracks at times, so if you choose a kettle with a central dip tube, it's a good idea to galvanize the filtration system with a hop spider (Amazon).
Faster Than Fire – Induction-Ready Brew Kettles
Fire? Bah, what are we…cavepeople? These days, it's all about induction heating — the only way to go from 0 to bubbles in record time.
Induction heating is also more temperature accurate and consistent, giving you more control over the boil, and ultimately, the character of the finished beer.
If you're planning a monster brew in a huge kettle, induction heating is going to make the whole process a damn-sight easier.
Cool Hand Luke-ttle
Unless you've got a nifty pair of heat-proof brewer's gloves, you should be looking for a kettle with coated handles so you don't burn yourself each time you need to move it or crack the lid.
In fact, even if you do end up choosing a kettle with heatproof handles, I'd still recommend treating yourself to some brewer's gloves — better safe than sorry.
Extras That Sweeten the Brew Kettle Deal 
Now we're moving on to third-tier goodies that can really help a brew kettle stand out in the boozy crowd.
The following suggestions are by no means essential, but they can eliminate the need to make aftermarket purchases, which is always a bonus.
External Sight Gauges
A sight (or glass) gauge is essentially a little window worked into the exterior of your kettle that gives you eyes on the situation inside.
They'll normally only report volume, but some up-market versions may even report the temperature too.
It's another component to clean and take care of, which is kind of irritating, but the convenience it brings to the table is well worth a couple of extra minutes in the sink.
Jean-Claude Trub Dam
A trub dam is essentially a small piece of metal welded just in front of the valve or dip tubes, and it behaves just like a blocker in football.
Forming a barrier between the wort and the waste, you don't have to worry so much about contaminants worming their way into the fermentor.
Hop Screen – Keeping You Out of Trub-le
Hop screens are just a different way of separating the trub from the wort, so you get a good, clean draw as you move into the fermentation process.
Typically, only fancy brew kettles will arrive with such equipment, but they can be a great help.
That said, depending on your brewing and wort extraction methods, they can sort of get in the way. For instance, a hop screen may snag as you're trying to whirlpool the mix, and they can clog quite easily too.
False Bottoms – The Names Bond…James Bond
While it seems like some kind of gadget used by a secret agent for cinema-worthy espionage, a false bottom isn't actually that exciting.
It's essentially just a perforated metal disk fitted in the base of the brew kettle that allows your wart to pass through whilst stopping the trub in its tracks, or in spy lingo, it prevents foreign agents from infiltrating your organization and compromising the mission.
This kind of fixture can be a godsend if your kettle is also your mash tun, but do keep an eye out for blockages, as it might end up holding the wort at the gate along with the trub.
You've Waited Long Enough. It's Time to Take Your Home Brews to the Next Level
Homebrewing is all about the journey and having fun, so as amazing as my premium picks are, don't feel the need to smash your piggy bank to snag one if you're not ready.
Go for something higher up the list, then upgrade once you outgrow it.
A fancy kettle can help make the brewing process easier, but it's your care, creativity, and passion that make a beer special.
Cheers to you and your next batch of beer babies.