Draft beer, or draught if you're British, is becoming increasingly more popular in local breweries and bars alike. The draft beer scene is at the top of its game, with people travelling all over the world to have a taste of craft beer from a particular state or country.
People are becoming less inclined to drink for the sake of getting drunk, and more for the taste of unique craft beer flavors.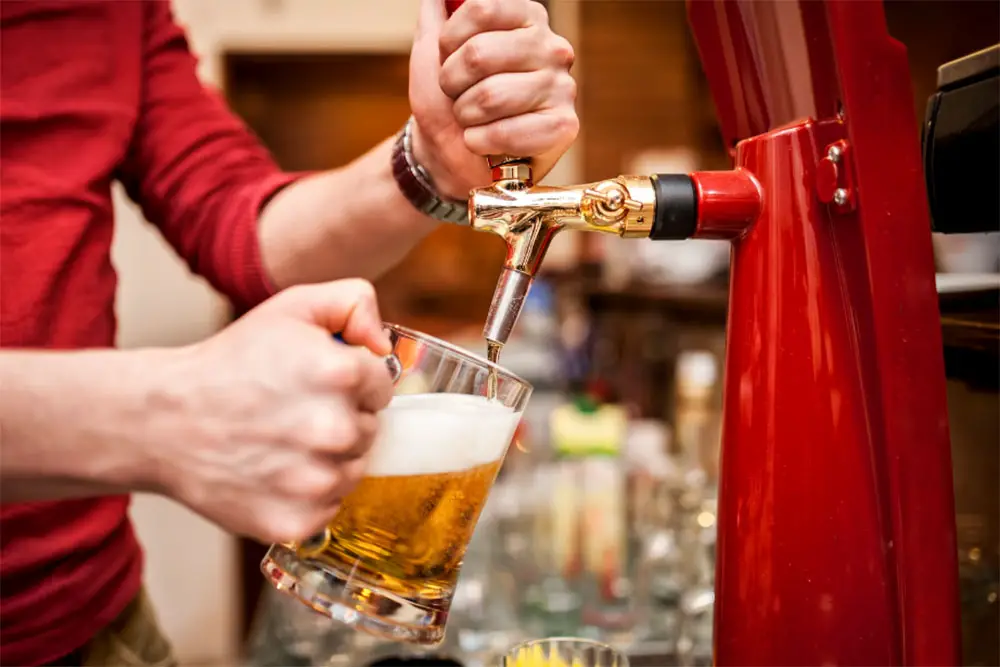 BEER DROP: Boxes of beer from Award-winning microbreweries → Join The Club
Whether you're a beer enthusiast or not, there's a lot of information and history around draft beer. If you're looking for a guide on what draft beer is, how it's made, and why it is so popular – you've come to the right place! Here is everything to know about draft or draught beer. 
What exactly is draft beer?
Where some beers are served in a bottle or can, draft beer is served directly from the taps of the kegs that store the beer. For this reason, draft beer is also known as "keg beer". These kegs or casks are pressurized or pumped by hand to provide that distinctive fluffy head of foam on top of the beer. 
There's multiple reasons why draft beer is considered the ultimate beer. Kegs provide no access to sunlight, which prevents the beer from degrading from light. Likewise, kegs are highly pressurized to prevent oxygen from seeping in, which would otherwise shorten the lifespan and freshness of the beer.
You know when you open a can of beer and you leave half of it in the fridge and it goes all flat and gross? Yeah, draft beer doesn't do that. 
To add to the freshness of draft beer, people are far likely to consume draft beer at a faster rate than other beers because of the crisp taste, which means that the beer is stored for even less time. 
History of draft beer
Before 1785 (when the beer engine was invented), beer was originally served to customers directly from the barrel.
The name "draught" beer derives from the Old English word dragan, translating to "carry" and "pull", which refers to the notion of transporting and pulling barrels of beer to customers. Nowadays, "draught" is the term used in Britain, Ireland, New Zealand, and Australia, whereas "draft" is used in North America. 
It is suggested that the earliest forms of draft beer originated from medieval monks who stored their beer in barrels. In 1691, the London Gazette Newspaper published an article describing John Lofting (a patentee of a fire engine) had a "very useful engine of starting beer", which referred to storing liquor and other alcohols in barrels. 
The notion of storing beer in barrels changed slightly in the 20th century, when draft beer began to be stored and served in pressurized containers. This carbonation method was first introduced in Britain during 1936, which then spread across Europe and America in the following decades.
It wasn't until the 1970s when the term "draught/draft beer" was used to solely refer to beer that has been served from a pressurized container, rather than a traditional barrel.
Is there a difference between draft and keg beer?
The terms "draft" and "keg" beer are often used interchangeably, but there is a difference between both beers. Keg beer refers to beer that goes through a filtering and pasteurization process, which draft beer does not go through. 
A keg is different to a cask in that a keg has a single opening at the top where the tap is installed, whereas a cask has a spile hole on the side and requires "tapping", which is essential for allowing the beer to be served.
This needs to be done at least 24 hours before being served to allow the beer to settle. A keg, however, can be used immediately. 
Storing and serving draft beer
Draft beer is fairly picky when it comes to storing and serving. The temperature is the first requirement for storing draft beer, as it can only be stored and served at a cellar temperature of 54 °F. If it's too warm, the taste of the beer is affected. If it's too cold, the flavor disappears and the beer goes flat. The wrong temperature can also create excessive foam.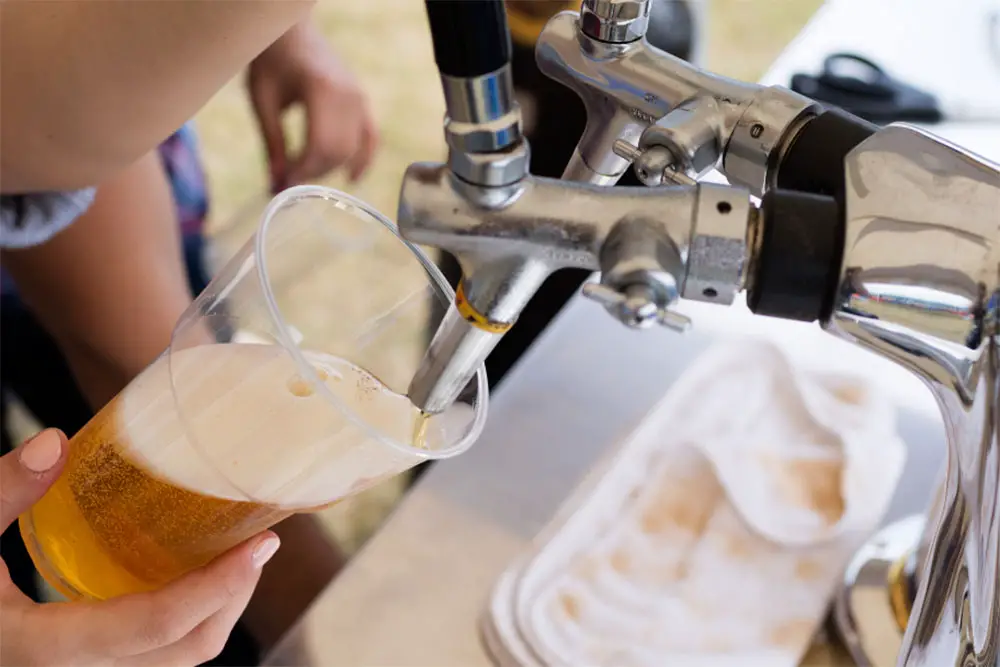 Draft beer is a pressurized beer, so it relies heavily on a consistent pressure between 10-12 PSI. This is an average figure for most American beers and lagers, however, as it will vary from brand to brand. 
Finally, draft beer must be tapped and left to settle properly before serving. Ideally, tapped draft beer must be left for at least 24 hours before serving to allow the beer to settle.
This is because the beer is still active and fermenting with yeast, which means that if you were to serve it immediately after tapping, it will just go everywhere and you will have more foam than beer. 
Draft beer in bottles and cans
Here's where it gets complicated. While it is possible to buy draft beer in bottles and cans, this is simply a clever and misleading marketing technique used to fool the consumers. To put it bluntly, draft beer in a can or bottle isn't actually draft beer, because it has been moved into another container. Draft beer is only real draft beer when it is served from the container it has been settled in. 
Sorry to burst your bubble, but if you're drinking a "draft" beer from a can, it's not a draft beer!
Draft beer vs bottled beer
If you were to drink a draft beer right after a bottled beer, you would taste the difference immediately. Bottled beer is far less carbonated than draft beer and doesn't feature the distinctive unique flavorings, which is why most beer enthusiasts prefer draft beer over bottled beer any day. 
It's all because bottled beer is pasteurized and filtered, whereas draft beer is not, which means that draft beer is far more flavorful than bottled beer. This is because the container that stores the draft beer restricts the beer from sunlight and oxygen that would mute the flavors. 
Of course, if you're unlucky enough to drink a draft beer that hasn't been stored or served properly, you might prefer the taste of bottled beer. Each to their own!
Size of beer kegs and casks
Casks and kegs are deliberately large to cater for multiple drinkers at bars, breweries, and events like festivals. Generally speaking, kegs can usually hold between 20-50L of beer. There are several cask sizes available, ranging from 4 ½ gallons to 36 gallons of beer. 
There are also mini-sized kegs and casks available for beer enthusiasts who have room in their sheds or beer-specific refrigerators. As the temperature requirement for kegs is less specific than casks (as well as the pressure and storage requirements), most people will opt to buy kegs over casks for convenience. There are 5L kegs available, which hold around 10 pints of beer. 
The minute the keg has been opened, the beer will last between 10-12 hours. Unopened, pasteurized beer lasts between 90-120 days, and unpasteurized beer lasts between 45-60 days. You can expect to pay less than $100 for a small keg of beer, and far more for a larger one.